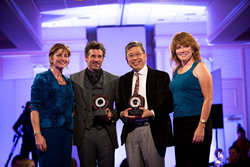 Maine has a lot to be proud of. It is important to be an individual, but be a community at the same time. I'm proud to be a Mainer.
Portland, Maine (PRWEB) November 16, 2014
Actor and cancer activist Patrick Dempsey and The Jackson Laboratory were honored this evening by the Maine Center for Creativity for their visionary thinking and persistence in helping Maine cancer patients. Both were recipients of the Maine Creative Industries Award, a biennial honor presented to those collaborating to positively impact Maine through art and business.
In the spirit of the inaugural event, the evening hosted at Portland's Holiday Inn by the Bay, was a showcase of Maine's creative and performing arts, choreographed by the Celebration Barn. EepyBird, aka the Coke-and-Mentos guys wowed the crowd with their wacky experiments, transforming everyday items into extraordinary things.
"We are in the business of nurturing creativity, therefore we are pleased to deliver an award to Patrick Dempsey and The Jackson Laboratory, who have demonstrated the highest value of what that creativity brings to Maine," remarked MCC founder and executive director, Jean Maginnis. "It's our mission to help the people of Maine to bring their ideas to life."
The Jackson Laboratory received the honor from 2012 award-winner, David Shaw, founder of IDEXX. Dempsey received the award from his sisters Mary Dempsey and Alicia Hatten, as well as his niece Nicole.
Upon the announcement of the recipients in March, The Jackson Laboratory and The Patrick Dempsey Center for Cancer Hope & Healing forged a new collaboration to work together. "The partnership of Patrick and Edison exemplifies what organizations can accomplish through creative collaboration," said MCC board president, Jamie Morin. "Their shared work is the realization of progressive industry, and real evidence of creativity's economic impact. We're excited to see more businesses collaborating in the years to come, and watching the economy develop as a result."
An independent nonprofit organization with a mission to discover precise genomic solutions for cancer and other genetic diseases, The Jackson Laboratory in Bar Harbor, Maine is world renowned for its genetics research, education and resources.
"As scientists and researchers, we are constantly creating something out of nothing. That creation is going to make a difference in humanity and our future," said Liu. "By working together we are going to do some great things for cancer patients in Maine and worldwide."
Best known for his role as Dr. Derek Shepherd on the long-running TV drama, Grey's Anatomy, Dempsey founded The Patrick Dempsey Center for Cancer Hope & Healing in Lewiston, Maine, which offers a cutting-edge model of support, education and integrative medicine services to anyone impacted by cancer.
"It's a tremendous honor to have received this award," said Dempsey. "Maine has a lot to be proud of. It is important to be an individual, but be a community at the same time. I'm proud to be a Mainer."
"The Maine Creative Industries Award sparks a collaboration of science and art that we will continue to grow over the years to come. We are looking forward to being a part of and participating in future partnerships throughout Maine's communities and beyond," added Morin.
About the Maine Creative Industries Award
As one the first of its kind in the country, the Maine Center for Creativity's Maine Creative Industries Award is a prestigious biennial honor celebrating excellence in art, innovation, and enterprise – and the recipients' positive impact on the state of Maine and the world. The selection committee chooses candidates whose contributions bring together arts and industry to stimulate Maine's economy and build its reputation for innovation and creativity. David Shaw and Glenn Close, husband and wife, received the inaugural award in 2012 in Portland, Maine.
About Maine Center for Creativity
The Maine Center for Creativity (MCC) is a nonprofit 501(c)(3) led by a volunteer board of directors. Founded in May 2005, MCC is committed to nurturing innovative companies and people in Maine by developing projects and programs that support the growth of creative industries and the arts. Among its creative educational and economic development projects are the Art All Around® international design competition to paint the South Portland Sprague Energy tanks, Creative Toolbox Series, Pecha Kucha Portland events, the Community Art Task Force, the recently launched Developing Creative Intelligence business training program, and the Maine Network of Innovation and Creativity, an in-person and digital "network of networks" to spur collaboration. MCC is also the founder and organizer of the biennial Maine Creative Industries Award. For more information, please visit http://www.mainecenterforcreativity.org.
###