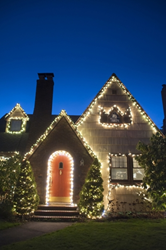 If there is a friend in the neighborhood, they can keep an eye out for people in the house or broken windows.
Chicago, IL (PRWEB) November 15, 2014
The Federal Savings Bank knows the holiday season is a time for cheer, gift giving and travel. Unfortunately, as people hit the road to visit friends and family, thieves target empty homes. The risk of a break in should never stop someone from taking a vacation or going to see grandma and grandpa, but it should be enough to warrant taking a few extra precautions.
The following tips by The Federal Savings Bank are part of a checklist to keep a home safe while you are away:

Lock all windows and double check those that can be reached from the ground outside or with a small stool.
Put Mail & Newspapers On Hold. Forgetting to do this means papers and mail can pile up on a porch and tell a passersby that no one is home.
Use timers to make lamps throughout the house go off and on automatically. This gives the house the appearance of being lived in - have lamps in the living room and a bedroom go on and off when they normally would if someone was at home.
Turn off the ringer on the phone. If there is house phone, turn down the volume on the ringer or turn it off. Unanswered calls can be a signal to others that no one's in the house.
Don't announce vacations on social media. A Facebook wall and Twitter feed may not be as private as one thinks, but thieves often use these sites to see who will be gone during the holidays.
Leave the curtains open. Some people think they should close their blinds or curtains when they leave, but this makes it harder for neighbors or police to see if someone is snooping around inside. Leave the window dressings open as normal, but move expensive items out of the line of sight.
Let a trustworthy neighbors know of the absence. If there is a friend in the neighborhood, they can keep an eye out for people in the house or broken windows. Neighbors or friends are also helpful people to call for updates on the property while absent.
Pick up the "hidden" key. Many people keep a spare key under a mat or rock. While this is practical in case one locks themselves out, don't leave it out during a vacation.
Homeowners interested in refinancing while interest rates are low should contact The Federal Savings Bank, a veteran owned bank.