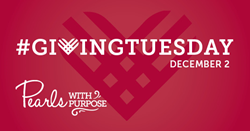 Just as people in developing countries don't celebrate Thanksgiving, they also have no idea what it means to 'live in the black.'
(PRWEB) November 26, 2014
In this country we celebrate a uniquely American holiday dedicated to giving thanks. This holiday is aptly titled "Thanksgiving." In a growing modern tradition, we also participate in Black Friday and Cyber Monday, two days dedicated to spending money and getting great deals.
In a response to these modern celebrations of consumption, nonprofits are coming together for what they hope will be a new day to add to the roster: Giving Tuesday. On December 2, charities, families, businesses, and individuals are invited to come together to celebrate generosity and to give.
"Just as people in developing countries don't celebrate Thanksgiving, they also have no idea what it means to 'live in the black,'" said Julie Orrock, director of operations at Pearls With Purpose, a Utah-based organization that teaches women in developing countries the art of jewelry making. "By purchasing a product from Pearls with Purpose or making a donation on Giving Tuesday, Americans can help those living in poverty."
The Pearls with Purpose program trains disadvantaged women to start their own micro-enterprise so they can support their families and pull themselves out of poverty. "Our model is based on the hand up concept," says Wendy Bird, founder of the non-profit organization. "We offer opportunities and training. The women use their skills to make beautiful products. What is needed to complete this circle of success is for customers to purchase the quality hand-crafted genuine pearl jewelry." Their online store makes this easy for pearl lovers who also want to support a good cause.
Orrock and Bird both hope that in the season of giving people will choose to make purchases that have a broader impact.
"We have several great programs this year," Orrock said. "We have our Gift With Purpose
program which allows you to give unique or traditional items of pearl jewelry to a friend or loved one as you give a specific donation amount." Pearls with Purpose is also offering every piece of black pearl jewelry at 40% off starting Wednesday November 26 of the Thanksgiving Holiday.
"The holidays are a big time for everyone," said Orrock, "and if more people choose to spend their dollars on organizations that are cause oriented, the impact could be felt around the world."
To learn more about Pearls With Purpose, their programs, or to find out where to purchase
their jewelry, visit pearlswithpurpose.org.