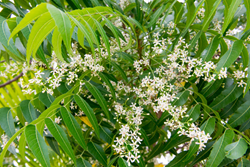 (PRWEB) November 16, 2014
By March 2015, Liquid Investments will have planted an extra 50,000 neem trees in the north-eastern quadrants of their Fazenda Palmeira Grande plantation.
With 235 hectares of plantation land allocated to neem at a density of 250 trees per hectare, Liquid Investments will have a total of 58,750 neem trees planted by the fourth quarter of 2015.
Liquid Investments is developing well managed, highly mechanized and commercial scale neem plantations. Facilitating the ownership of neem for local and foreign investors, comprehensive crop care and modern management methods will be implemented to deliver yields way above international industry standards.
Since all parts of the neem tree are utilized, a range of organic products are extracted from it and used across the agricultural, medical and cosmetic industries. The global consumer organics market is predicted to be worth US $162 billion by 2018, making neem an attractive entry-point to a sector that is progressing from niche to mainstream.
Diogo Mendes, Country Analyst for Liquid Investments, believes that "by investing in asset backed commodities such as Neem in Brazil, the key strategic agricultural power of the 21st century, investors can hedge against volatility and low visibility across other markets and asset classes and return to value creation."
For more details of the agricultural and health benefits attributed to the plant, and invaluable insight into the commercial potential of the crop, see Liquid Investments' new authoritative website on neem.
For further information on the investment opportunity in Neem, please see the Liquid's Neem Investment Guide. If you would like to get in contact with one of their Investment Consultants, simply request a call-back.
Note to Editors:
Liquid Investments is a provider of global investment solutions allowing institutional and private investors the opportunity to accumulate wealth through safe and secure alternative investments in emerging markets.
Founded in 2006, the organisation is headquartered in Knightsbridge, London and with an office in Fortaleza, Brazil.
For further information:
Jayshree Badhan, Chief Marketing Officer – Jayshree(dot)Badhan(at)liquid-investments(dot)com