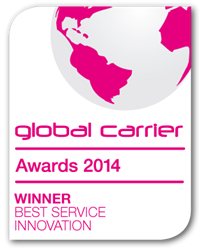 "We are honored our peers in the telecom industry recognize the enormous benefits B2BSimpleX provides to carriers," said Michael Wallrath, Managing Director, Ascom Systems and Solutions.
Aachen, Germany (PRWEB) November 18, 2014
B2BSimpleX, the automated solution developed by Ascom to facilitate carrier interconnect agreements, was named this year's top service innovation during the 2014 Global Carrier Awards in Amsterdam, Netherlands.
The Global Carrier Awards is the biggest and most prestigious awards event in the wholesale telecoms market. The winners were decided by a panel of over 20 judges, which included leading analysts, industry experts and Capacity's senior editorial team. In total, 30 awards were presented during the conference's banquet gala held on November 4, 2014.
In addition to winning the Best Service Innovation category, the B2BSimpleX communications team was one of five 'shortlisted' for an award in the best marketing team category.
"We are honored our peers in the telecom industry recognize the enormous benefits B2BSimpleX provides to carriers," said Michael Wallrath, Managing Director, Ascom Systems & Solutions. "It's a great testament to how innovation can be achieved through collaboration and by working with carrier partners and forums, such as GBET and GSC, to help solve challenges and grow business," said Wallrath.
.
B2BSimpleX Replaces Manual Process with Cost-Cutting Automation
Ascom developed B2BSimpleX to eliminate the costly and time-consuming manual processes that carriers have long relied upon to negotiate and implement interconnect agreements. B2BSimpleX replaces the entire process with an automated, real-time solution.
Unlike other solutions that only partially address the interconnect process and are cumbersome and expensive to use, B2BSimpleX is a comprehensive (as well as low-cost) solution that enables carriers to electronically exchange, verify and finalize inter-carrier agreements quickly and with far less data discrepancies. Intuitive user modules and workflows can be used to modify contracts, inform partners about price and destination changes, verify dial code lists and volumes, and exchange side letters.
Advanced tools include the ability to model business cases, conduct 'what if' scenarios, analyze contract performance and measure profitability in real-time. Additional features include the ability to prepare financial statements (negotiate to bill), import and verify scanned invoice items, CDR reconciliation and automatic flagging and classification of discrepancies and recommended disputes.
"B2BSimpleX changes the interconnect landscape significantly because carriers can now exchange contract proposals, financial information and other terms and conditions knowing that it will be securely received and transparently formatted to the recipient's operations and business support systems," said Wallrath. He said that the platform's open, fluid architecture integrates easily and seamlessly to existing enterprise systems to ensure rich, robust, seamless communications across business units and operations.
ABOUT ASCOM
Ascom, headquartered in Switzerland, is a global leader of mission critical communications solutions, with subsidiaries in 17 countries and a workforce of more than 1,600 employees. Ascom's Business Unit Systems & Solutions provides innovative software and solutions for business and operations support. The service offering include consulting, planning, implementation, service support, as well as the complete operation of large-scale IT solutions.