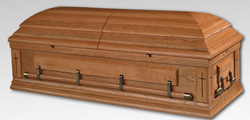 (PRWEB) November 17, 2014
Recently, MillionaireCasket.com, an outstanding casket-maker, has unveiled its new item of solid mahogany caskets. Now all these new products are now offered at a big discount, up to 30% off.
The company's chief executive officer is proud to launch the high quality solid mahogany caskets. All of them feature quality materials and great craftsmanship. The distributors will be satisfied with their new selection in the world. Almost all of its items are not only great but affordable at the same time
In addition, all the company's current and future clients can enjoy the low rates.
As a leading company in the industry, MillionaireCasket.com can provide a range of sizes and weight measurements of caskets. All of caskets come with cheap shipping costs. So the sales of its caskets are increasing day by day. It is obvious that MillionaireCasket.com has been recognized and deeply received by customers for many years. Now, it becomes a one stop funeral supplier.
More importantly, all the mahogany caskets are made from by skillful staff. They are all focusing on improving their skill and knowledge, hoping creative the best caskets.
About MillionaireCasket.com
MillionaireCasket.com is a leading casket company that focuses on the business of casket wholesale. This company offers an exquisitely crafted line of all kinds of metal caskets, solid wood caskets, veneer caskets, cremation caskets, rental caskets, orthodox caskets, infant or over-sized caskets and European style coffins. The standard quality control policy is strictly applied here, and a third party quality assurance is also available. More information about the company and its quality products can be found at http://www.millionairecasket.com/70-mahogany-caskets