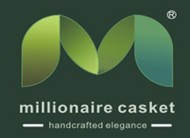 (PRWEB) November 21, 2014
MillionaireCasket.com, a leading casket company, is now introducing its new metal casket collection in order to expand its global market share. The promotion will be valid before 30 December, 2014.
Millionaire Casket is good at designing and producing high quality casket products. It is regarded as the most reliable company by a lot of customers. All the new metal caskets are produced by experienced workers with high quality materials.
The marketing management states that metal caskets are popular in the market now. According to the company's chief executive officer, clients worldwide can see the detailed information about the new items on its website.
MillionaireCasket.com's products come with a strict quality-control process. On its website, clients can always get useful products at affordable prices. Owing to its simplified buying process, worldwide people don't need to spend much time to order what they want. MillionaireCasket's top designers are so responsible that they keep making full efforts to create the most attractive items.
About MillionaireCasket.com
MillionaireCasket.com is a leading casket company that focuses on the business of casket wholesale. This company offers an exquisitely crafted line of all kinds of metal caskets, solid wood caskets, veneer caskets, cremation caskets, rental caskets, orthodox caskets, infant or over-sized caskets and European style coffins. The standard quality control policy is strictly applied here, and a third party quality assurance is also available. More information about the company and its quality products can be found at http://www.millionairecasket.com/41-metal-caskets