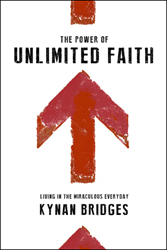 Immerses the believer in the concept of living in God's Kingdom.
Shippensburg, PA (PRWEB) November 20, 2014
People talk about "getting more faith" or "increasing" their faith. Yet when they buy into this idea, there is never enough. Though some constantly seek after greater faith, it always feels just beyond their grasp.
The truth is, believers already possess all of the faith ever needed—both to please God and to release His miraculous power in everyday life. The key is to know how to activate it.
Pastor Bridges empowers the believer to see the invisible—and discover God's supernatural solutions. The author shows the reader how to operate key principles of faith—and unleash God's unlimited power that already resides within. This audience is urged in activating the law of confession—and agree with God's Word. The text encourages readers to expect the miraculous—and watch impossibilities turn around. Kynyan Bridges takes the limits off of God and leads others to experience the power of unlimited faith.
"Kynan Bridges is one of my favorite Bible teachers. We are on the precipice of the greatest revival and move of miracles in history. This book will prepare you to enter the last act of the play!" — Sid Roth, Host – "It's Supernatural"
"…empowers the reader to be spiritually transformed to see past the natural realms of limitations by entering into the invisible realms where God has chosen in His sovereignty to cloak himself." — Barbie L. Breathitt, PhD – Breath of the Spirit Ministries
Interviews, review copies and giveaway copies are available upon request.
Kynan T. Bridges is senior pastor of Grace and Peace Global Fellowship (Tampa, FL), which reaches thousands of people every week with the Gospel. He is the author of the bestselling book Possessing Your Healing, an international conference speaker, and chairman of the International Apostolic & Prophetic Council (IAPC). His video podcast (FaithTalk) reaches thousands of viewers every week.
Destiny Image, located in Shippensburg, Pa, was founded in 1983 by Pastor Don Nori, Sr. It seeks to accurately represent authors who have a call to share God's present word to His people and to make these authors easily accessible to the Christian body around the world in every form of media possible.
To download a press kit, click here.
FOR PRESS INQUIRIES, INTERVIEWS AND REVIEW COPIES:
Brad Herman
(719) 439-4960
bherman(at)norimediagroup(dot)com
To join our media contacts list, click here.