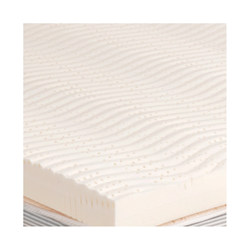 This pad offers a revolutionary level of comfort that will make the perfect gift for anyone looking to give the gift of a restful night's sleep this holiday season
Evansville, IN (PRWEB) November 17, 2014
Luxury linen and bedding retailer eLuxurySupply.com has announced the release of the Sleepmade 100% Natural Latex Mattress Topper, which is the first all-latex topper that the company has included in its line of American-made luxury mattress pads and toppers.
eLuxurySupply.com E-commerce Manager Kyle Schmidt says that the company has seen a great deal of demand from customers to release a latex option for their mattress pads, and they have been working hard to find the correct product to meet the needs of their customers.
"Our Product Development team has been working to bring this product to the website for many months and we are proud to be offering this American-made latex mattress pad to our customers in time for online holiday shopping," Schmidt said. "This pad offers a revolutionary level of comfort that will make the perfect gift for anyone looking to give the gift of a restful night's sleep this holiday season," he said.
The Sleepmade 100% Natural Latex Mattress Topper adds 2.5 inches of thickness to any bed and is made with a two-sided design in which the customer can choose between a plush side (14ILD) or a firm side (25ILD). Schmidt says that the pad offers the ultimate in relief of tension and muscle relaxation that only latex can deliver.
Schmidt says that the unlike many other foam products, this natural latex breathes very well and this discourages a buildup of moisture and heat. The Sleepmade topper is constructed with self-ventilating holes that allow air to move through it during sleep.
Schmidt points out that the comfort and breathability of the latex topper is a major selling point, but there is a very important feature of this pad that will appeal to many couples in which one person is a restless sleeper. "This topper will not transfer motion the way most innersprings do, so you will not feel the after-effects of someone moving beside you. That said, we doubt anyone would have a difficult time getting a great night's sleep with the level of comfort that comes with this new pad," he said.
This release comes shortly after the company began offering its first latex products to date, with the late October launch of their line of latex pillows. The company now offers the Sleepmade 100% Natural Shredded Latex Pillow as well as the Sleepmade 100% Natural Latex Pillow.
About eLuxurySupply.com
eLuxurySupply.com is a United States Veteran Owned and Operated company based in Evansville, Indiana that is quickly becoming one of the internet's most trusted and successful luxury superstores. eLuxurySupply is a Sam Tucker LLC owned and operated business and for any questions, comments or concerns, please call 1-800-977-7433 or email service(at)eLuxurySupply(dot)com.