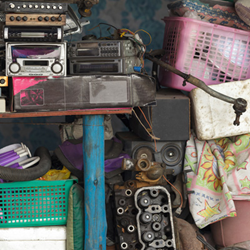 Given the prevalence of hoarding behavior and the growing awareness of it in the professional and public zeitgeist, mental health professionals will likely be called upon to treat those suffering from this illness.
Philadelphia (PRWEB) November 18, 2014
HealthForumOnline (HFO) is pleased to announce a new online continuing education (CE) course entitled, A Clinician's Guide to Understanding and Treating Clients with Hoarding Disorder, to its extensive library of over 95 online CE courses for mental health professionals. HFO, a nationally-approved (APA, ASWB, NBCC, CA-BBS) provider of convenient, cost-effective online continuing education (CE) for counselors, psychologists, social workers and allied healthcare providers, understands how important and timely this course is as Hoarding is no longer subsumed under the diagnosis of OCD, but rather is a new diagnosis in the DSM-5 – the diagnostic "bible" for mental health professionals.
We all know passionate collectors of rare or fine objects (e.g., antique jewelry, vintage cars), or those who simply have an affinity for things quirky or kitsch (e.g., Pez dispensers). Some decoratively display these collections, even those objects considered mundane – elevating the object to "high art." On the other hand, much attention has been devoted to individuals whose propensity to "collect" is not associated with this kind of creativity; those who have achieved notoriety for their inappropriateness or abnormality.
What distinguishes between these "collectors," and those that amass things that many of us would discard without a thought? And when is this "amassing" maladaptive? When does a "collector" become a hoarder? When does one cross the line into pathological behavior, warranting a formal diagnosis of Hoarding Disorder?
Hoarding Disorder is a psychiatric illness primarily characterized by significant difficulty parting with possessions, even items that have very little value (e.g., newspapers). In addition, hoarders may have an obsession with acquiring new objects, despite already owning or having no need for them; many objects remain in their packaging. The inevitable build-up results in excessive clutter, making it difficult for the hoarder to function adequately or adaptively (e.g., cook in the kitchen, maintain sanitary living environment, socialize). Many hoarders have poor insight into their symptoms, and often resist offers to help de-clutter. Hoarding behaviors have been linked to faulty cognitive processes, neuropsychological and neurological abnormalities, maladaptive beliefs and behavioral patterns, genetics, and environmental factors (1).
Approximately 20% of the U.S. population struggles to some extent with discarding worthless items (2). Regarding prevalence of the clinical disorder, estimates range from 2% to 5% (3-4). A smaller subset of hoarders, 700 to 2000 new U.S. cases annually (5), accumulates animals, instead of or in addition to objects. This type of hoarding is associated with very dire consequences for the animals, and potentially, for the hoarders themselves (6). Comparable to other types of hoarding, animal hoarders typically have poor insight, seeing themselves as caregivers and rescuers of animals. The attachment hoarders form to animals can be much stronger even than the attachment between hoarder and inanimate object – unlike objects, the animals can provide reciprocal attachment (6). A vital, clinically relevant factor in animal hoarding is the higher level of mental and/or physical difficulties that appear to be evident in many animal hoarders (5).
Given the prevalence of hoarding behavior and the growing awareness of it in the professional and public zeitgeist, mental health professionals will likely be called upon to treat those suffering from this illness; or because of the ego-syntonic nature of hoarding, even more likely that they will encounter family members impacted by this pathological behavior. This new online CE course reviews the current DSM-5 diagnostic criteria for Hoarding Disorder. A clinical picture of the disorder is provided, including a discussion of its etiology and common characteristics. Information guides the clinical assessment of Hoarding Disorder as well as theory- and evidence-based treatment approaches. Common challenges clinicians face when working in this domain are addressed.
1. Tolin, D.F. (2011). Understanding and treating hoarding: A biopsychosocial perspective. Journal of Clinical Psychology: In Session, 67(5), 517-526.
2. Rodriguez, C.I., et al. (2013). Prevalence and correlates of difficulty discarding: Results from a national sample of the U.S. population. The Journal of Nervous and Mental Disease, 201(9), 795-801.
3. Muroff, J., et al. (2014). Hoarding disorder. In Storch, E. A. & McKay, D. (Eds.), Obsessive-compulsive disorder and its spectrum: A lifespan approach (pp. 117-140). Washington, D. C.: American Psychological Association.
4. Samuels, J.F., et al. (2008). Prevalence and correlates of hoarding behavior in a community-based sample. Behavioural Research and Therapy, 46(7), 836-844.
5. Patronek, G.J. (1999). Hoarding of animals: An unrecognized public health problem in a difficult to study population. Public Health Report, 114, 81-87.
6. Patronek, G.J., et al. (2009). A theoretical perspective to inform assessment and treatment strategies for animal hoarders. Clinical Psychology Review, 29, 274-281.