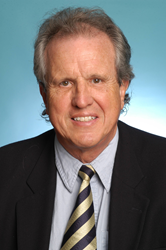 We are as fortunate as we are humbled to have Dr. David Smith join North Bay Treatment Center." – Tyler Knight, President of North Bay
San Rafael, CA (PRWEB) November 24, 2014
Dr. David E. Smith, a recognized national leader in addiction medicine, the psychopharmacology of drugs, new research strategies in the management of drug abuse problems, and the treatment of adolescent substance abuse, has joined North Bay Recovery Center in San Rafael, California as Consulting Physician. As North Bay's Consulting Physician, Dr. Smith will oversee all medical staff and guide medical protocol for the center including Northbay's psychiatric treatment.
An addiction treatment category luminary, Dr. Smith is a Fellow and Past President of the American Society of Addiction Medicine, Past President of the California Society of Addiction Medicine, Past Medical Director for the California State Department of Alcohol and Drug Programs, and Past Medical Director for the California Collaborative Center for Substance Abuse Policy Research.
"Dr. Smith's stature in the addiction treatment field and his extensive contributions to helping people recover from drug and alcohol abuse are legendary. We are as fortunate as we are humbled to have him our Consulting Physician", stated Tyler Knight, President and Co-Founder of North Bay Recovery Center.
Notably, Dr. Smith is the Founder of the Haight Ashbury Free Clinics of San Francisco and has been honored as one of the "Best Doctors in America". Dr. Smith is also the Founder and Publisher of The Journal of Psychoactive Drugs and co-editor of The International Addiction Infoline Newsletter. In addition, he has authored or co-authored 26 books, written over 340 journal articles, edited 28 journals, and has been the technical consultant for 28 drug abuse-related films.
Dr. Smith's current appointments include Chair of Addiction Medicine for Alta Mira Treatment Centers and Medical Director for Center Point. Dr. Smith is also an Adjunct Professor at the University of California, San Francisco.
About North Bay Recovery Center
North Bay Recovery Center is an innovative drug and alcohol treatment center exclusively for men located in beautiful San Rafael, California, just north of the San Francisco Bay Area. Our Marin County rehab facility helps men who are addicted to alcohol or drugs learn the skills needed to heal and live the life they should have had all along. North Bay provides intensive addiction treatment that has proven to work for men of all ages suffering with drug and alcohol dependency.