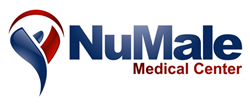 (PRWEB) December 01, 2014
NuMale Medical Center announced today that its erectile dysfunction (ED) therapies have been successful in treating 98 percent of cases. This impressive achievement is a result of NuMale's unique approach, which relies on the latest science and most innovative medical techniques and procedures to help men of all ages.
ED is a common problem that affects men of all ages. Nearly one in every five American men suffers from this condition, which becomes more prevalent as men age. Other conditions, including diabetes, prostate problems, cardiovascular disease, and hypertension can contribute to ED as well.
Because the causes of ED can be varied, each patient at NuMale Medical Center receives a comprehensive and confidential medical evaluation including a consultation, a physical examination, and full blood work up. After reviewing the findings of this evaluation, NuMale's expert physicians customize a treatment plan to meet each individual's specific needs.
"At NuMale, we take this unique approach because it yields better results for patients," said Dr. Asandra. "We always treat the patient, not just the symptom. It's more work for our physicians, but it's also why we have been so successful in helping men suffering from ED."
NuMale Medical Center has grown rapidly since its founding in May of 2013. With eight offices nationwide and many more to come, NuMale has treated tens of thousands of men suffering from ED, premature ejaculation, low testosterone (Low-T), hair loss, and more.
Using FDA-approved methods and the most innovative treatments, NuMale Medical Center provides a money-back guarantee on its ED consultation for new patients. For more information, or to make an appointment, call 866-205-8262 or visit http://www.numale.com.
About NuMale Medical Center
NuMale Medical Center is a leading national provider of customized, comprehensive treatment for male sexual dysfunction and enhancement. NuMale helps men suffering from erectile dysfunction (ED), low testosterone (Low-T), premature ejaculation and low sex drive, utilizing a wide range of the most highly-respected, FDA-approved treatments. NuMale's innovative services include bio-identical hormone replacement, NeoGraft® hair restoration, and the Priapus™ procedure. Founded and led by accomplished physician Dr. Christopher Asandra, NuMale Medical Center has expanded rapidly in its first year, with eight facilities nationwide and many more to come. Learn more at numale.com and follow the company on Facebook, Twitter and LinkedIn.