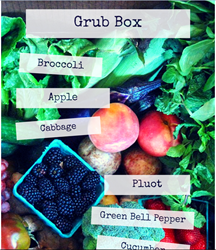 We are new to GrubMarket, but so far we are loving the quality, convenience and the prices are excellent as well. Keep up the good work!
San Francisco (PRWEB) November 19, 2014
GrubMarket.com, an online marketplace for local foods, is creating a convenient and efficient online ecosystem for local foods. GrubMarket is now California's fastest-growing online farmers' market supplying FRESH, locally-sourced, healthy food to local people, local communities and local enterprises located in the San Francisco Bay Area, with affordable prices and convenient delivery. GrubMarket is the only delivery service provider covering all counties of the San Francisco Bay Area. After GrubMarket.com was launched on Feb 1st, 2014, within 7 months, GrubMarket has already attracted and signed up more than 220 vendors to open up online stores and list more than 2100 products of various categories of food across the San Francisco Bay Area, Los Angeles area, San Diego area, Michigan and Boston area.
GrubMarket.com facilitates the direct sale of farm produce to consumers across the San Francisco Bay Area. By eliminating the "middle-man", such as distributors and wholesalers, consumers get the most affordable prices of farm produce delivered fresh to their homes, allowing vendors to make the most profit from their sales at GrubMarket.
GrubMarket.com now offers "Grub Box", a well-packaged box of various seasonal fresh farm produce, or healthy snacks, in various sizes. Currently GrubMarket offers the following Grub Boxes:

Organic Seasonal Fruits
Sustainable Meat
Healthy Snacks
Organic Seasonal Vegetables
Organic Seasonal Fruits and Veggies
Fresh Seasonal Vegetables
Fresh Seasonal Asian Vegetables
Fresh Seasonal Fruits and Veggies
Fresh Raw Milk
GrubMarket users can subscribe to those Grub Boxes, and pick up one of the following frequencies:

Only Once
Weekly
Bi-weekly
Monthly
GrubMarket also offers their "Enterprise" Grub Box, a large mix of healthy snacks or fresh seasonal organic fruits, delivered to companies of all sizes throughout the Bay Area.
For more details about Grub Box, and how to order, please check out the following link: https://www.grubmarket.com/grubbox/choose.
GrubMarket is building an online marketplace that connects people who are passionate about creating and consuming locally produced food. GrubMarket.com is beautifully designed, and very easy to use. GrubMarket is committed to supporting local food communities, small-business food vendors, farm producers, and local people who desire to shop on one website that has all the local foods available for everything they desire to eat.
For further information, please contact: Jeff Bordes, GrubMarket, Inc, VP Business Development, 925-200-2430, jeff(at)grubmarket(dot)com. To learn more about the all new, online farmers' market -– GrubMarket, and its commitment to connecting people who are passionate about creating and consuming locally-sourced foods, please visit http://www.grubmarket.com.