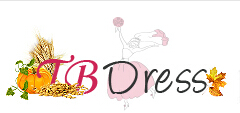 (PRWEB) November 21, 2014
Recently, Tbdress.com, a leading supplier of women's dresses, has excitedly announced its Cyber Monday Women's Clothing Sale will be available on December 1, 2014. On the website of Tbdress.com, customers can see all the items from this supplier will be offered at discounted prices then. Everything at Tbdress.com is up to 75% off. Anyone who buy 2 pcs or above can get an extra 15% off and free delivery (for orders above $89).
As all the dresses will be offered with new discounts soon, Tbdress.com has prepared a lot of inventory for shipment, because the business knows that the demand will be huge. All customers should wait for two weeks before they can save much money on this website.
The sales manager of Tbdress.com, said, "We have listed the best-selling women's dresses on our website, in the hope of helping ladies to make a shopping decision more efficiently. All the outfits come with many positive comments from our clients worldwide. Our women's dresses include mainly wedding dresses, formal dresses, evening dresses, cocktail dresses, and so on."
The sales manager hopes to recommend all the company's hot-selling models to each of the company's customers to expand the market share.
"I expect to see a shopping wave along with our customers' satisfaction. Our department of operations and technologies are ready for Cyber Monday 2014 now. We will stay focused on our product selection, key differentiators." He adds.
About Tbdress.com
With over 10 years' experience, Tbdress.com is offering extensive and stylish collections of wedding dresses and other special-occasion dresses at acceptable low prices, and its products include a wide range of wedding dresses, evening dresses, prom dresses, and more. They vow to provide trendy wedding dresses without sacrificing the dress quality. For more details about Tbdress online shopping, please visit http://www.tbdress.com/