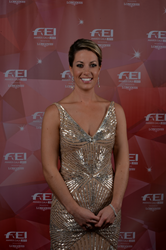 Winning the Reem Acra Best Athlete award was an absolute privilege, and the ceremony inspired all of us to celebrate equestrian sports with a global audience.
Lausanne (PRWEB UK) 17 November 2014
The shortlist for the FEI Awards 2014, the Oscars of the equestrian world, will be revealed on Facebook and Twitter by the Fédération Equestre Internationale (FEI), the world governing body of equestrian sport, starting today.
The annual awards, launched in 2009, put the spotlight on the men, women, young people and organisations that make outstanding contributions to the growth of equestrian sport, rewarding excellence, commitment, dedication and courage.
Candidates for the Reem Acra Best Athlete category, for athletes who have demonstrated exceptional equestrian skills, and over the last 12 months have taken the sport to a new level, will be unveiled today.
Charlotte Dujardin (GBR), the double Olympic gold medallist and current world Dressage number one, collected this award last year dressed in a stunning creation by fashion designer Reem Acra, title sponsor of the Western European League and Final of the prestigious FEI World Cup™ Dressage series. She sent a special message to this year's hopefuls: "Winning the Reem Acra Best Athlete award was an absolute privilege, and the ceremony inspired all of us to celebrate equestrian sports with a global audience. I wish everyone nominated this year the very best of luck for these awards, which will continue to inspire young people for generations to come to take up equestrian sport."
The shortlisted candidates for the remaining four FEI Awards 2014 categories will be revealed daily this week as follows:
Tuesday: Against All Odds Award
Rewards people who have pursued their equestrian ambitions despite physical handicap or extremely difficult personal circumstances.
Wednesday: FEI Solidarity Award
Presented to an FEI Solidarity or equestrian development project, or an individual or organisation that has demonstrated skill, dedication and energy in expanding equestrian sport.
Thursday: Best Groom Award
Reserved for those all-important, behind-the-scenes team members who work around the clock to ensure that their horses get the best possible care and attention.
Friday: Longines Rising Star Award
The category is dedicated to equestrians aged 14 to 21 who demonstrate outstanding sporting talent. This award counts past winners Reed Kessler (USA), the youngest equestrian athlete to compete at the London 2012 Olympic Games, and Alex Hua Tian, who was celebrated in Chinese media as the "one in 1.3 billion" in the lead-up the 2008 Olympic Games where he became China's first Eventing athlete.
Full information on the equestrian heroes of 2014, which include athletes and key personalities, will also be available on http://www.feiawards.org.
The winners of the FEI Awards 2014 will be flown to a red-carpet gala evening in Baku, Azerbaijan in December, where over 350 guests representing National Federations, equestrian sport fans and the FEI's partners around the world will celebrate their achievements.
Photo Caption: Charlotte Dujardin, the double Olympic gold medallist and world Dressage number one, is pictured at the FEI Awards 2013 ceremony in Lausanne (SUI), where she collected her Reem Acra Best Athlete award dressed in a stunning Reem Acra creation. (FEI/Anthony Demierre)
FEI Photo Catalogue: Images for editorial purposes are available for free download at http://www.feiphotos.org.
Notes to Editors
FEI President HRH Princess Haya is the chair of the FEI Awards 2014 judging panel, which also includes Mary Binks, FEI Bureau Member and Chairman of FEI Group IX (Botswana, Congo, Ethiopia, Kenya Madagascar, Malawi, Mauritius, Namibia, Senegal, South Africa, Swaziland, Zambia and Zimbabwe); George Dimaras, Executive Board Member of the Hellenic Equestrian Federation; and Betty Wates, President of the Equestrian Federation of Jamaica.
FEI Awards 2014 hashtag: #FEIAwards