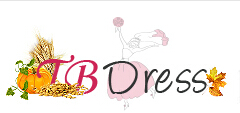 (PRWEB) November 21, 2014
As Special Monday is quickly approaching, the well-known fashion company Tbdress.com is celebrating this festival this year with its 2014 Cyber Monday bags sale. People can enjoy great discounts on that day: Everything at Tbdress.com is up to 90% off. Anyone who buys 2 pieces or above can get an extra 10% off and free delivery (for orders above $89).
People can use the following coupon codes as well:
TBBF10 for $10 off (for orders above $99)
TBBF15 for $15 off (for orders above $149)
TBBF20 for $20 off (for orders above $199)
......
Handbags have great influence on a woman's life. A lady can get happy and confident if she has a proper handbag. Each week, Tbdress.com releases some new chic handbags highlighting a particularly special brand that is very popular in the market. The employees from Tbdress.com know what makes each handbag so special for each customer.
"Just get ready and expect to see a full range of handbags for 1 day only. Also, we are excited about the coming shopping festival. I think it is really important because it is a great opportunity for us to show our best goods to the global customers," the sales manager of Tbdress.com says.
The business has done much preparation for the women's handbags online sale. According to the CEO of the company, the number of Tbdress.com's visitors has increased greatly recently due to the upcoming holiday season. The company has enough confidence to make a great success during the upcoming shopping holiday.
About Tbdress.com
With over 10 years' experience, Tbdress.com is offering extensive and stylish collections of wedding dresses and other special-occasion dresses at acceptable low prices, and its products include a wide range of wedding dresses, evening dresses, prom dresses, and more. They vow to provide trendy wedding dresses without sacrificing the dress quality. For more details about Tbdress online shopping, please visit: http://www.tbdress.com/