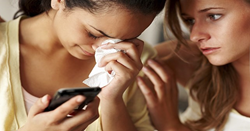 The only people standing to blame here are the ones who took innocent photos and spun them in a sexual context to please pedophiles.
London, UK (PRWEB) November 18, 2014
There is something called context. Context determines someone's reaction to a word or a sentence or a feeling. But, when it comes to the distribution of child pornography, does context make a difference? NoBullying investigates this piece of shocking news in an article released today.
It came to the forefront of news when BBC Spotlight NI revealed in a report (11/11/2014) that 731 photographs of schoolgirls in Northern Ireland have been published on a child pornography website frequented by pedophiles. And before anyone jumped on the shame wagon, it was also revealed that the photos were day to day photos of girls in school uniforms on school campus not doing anything remotely obscene.
So if they are school girls being good school girls, why would a pedophile feel interested? And more importantly, how did that deviant website get a hold of these photos? It is all about context. Some people were surfing school pages on several social media outlets and saved photos of the pupils laughing and playing wearing the school uniforms and then uploaded them to a website whose servers are in the Netherlands and is operated and managed by an IP address in Israel. What seem more alarming are the users' comments: purely sexual and deviant in nature while, in fact, the photos are nothing but innocent.
The schoolgirls included pupils from 19 post primary schools (high schools) in Northern Ireland and it was mentioned in the BBC Spotlight NI report that the channel passed on the information to the PSNI's Child Protection Unit as well as all the schools related to the incident in Northern Ireland. After being contacted by the BBC Spotlight NI Programme, the website managers removed photos in question but had refused to pass on information on who was responsible for uploading the photos.
The managers of the website said in the report that they felt the pictures can easily seem "risqué" and serve "the fantasy of the users". In simpler words, a pedophile will still see sex in the most innocent of contexts.
This report comes at a shock to parents, teachers and caregivers all over the world because the game now seems different, even with innocent schoolgirls playing around in school, there is someone out there who sees this innocence in a sexual totally deviant context and there are people who are more than willing to cater for pedophiles' needs and have all the answers ready when it comes to spinning a sexual context on the most innocent of actions.
This is, again, a call to action to press for more firm child pornography laws around the world and for more security protecting photos and personal information of minors.
Ciaran Connolly, Co Founder of NoBullying says "This is a puzzle. No one can blame the girls for being themselves in school and no one can blame the ones who took the photos because, in fact, the photos are completely innocent. The only people standing to blame here are the ones who took innocent photos and spun them in a sexual context to please pedophiles."
He added that parents and teachers should make a point to educate the younger generations about the sad outcome of neglecting online safety and photos safety. According to Connolly, it is quite imperative to press for more firm laws condemning all acts of bullying and harassment.
NoBullying.com features many pages dedicated to parents, teens, teachers, health professionals as well as posts related to cyber safety and the latest news about law making concerning curbing Bullying worldwide as well as inspirational Bullying Poems and famous Bullying Quotes.
The website regularly updates its bullying statistics and cyber bullying statistics as it is essential to understand how widespread the bullying epidemic is. It also regularly runs cyber bullying surveys and questionnaires to get recent updated statistics on everything related to cyberbullying.
He also added that anyone suffering from bullying in any form or way can always find advice and help on the NoBullying website – but if anyone is suffering from severe bullying or cyber bullying, the best thing is to talk to someone locally – a parent, teacher or local organization that has been set up to help with specialized councilors to deal with this topic.