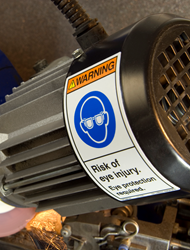 A safety label or sign must be seen—and be seen clearly—to be understood. When degradation or a complete material failure occurs, that objective is hampered.
Milford, PA (PRWEB) November 18, 2014
Clarion Safety Systems, a leading designer and manufacturer of safety signs and safety labels, has produced a video on the importance of materials when it comes to the durability of workplace safety and on-product warnings. The piece is part of a series of short, educational videos designed to serve as a resource in promoting a better understanding of current best practices in the design of product safety labels and facility safety sign systems.
Properly crafting the content of safety signs and labels is important. The goal is to effectively communicate safety. Yet, in the overall picture, durability is just as important as content. Potential injuries and deaths – and a company's liability exposure – depend on the longevity of the materials used in the manufacture of safety signs and labels.
In its 3-minute video, "Durability of Safety Signs, Labels and Markings," Clarion explains why durability and longevity are essential to every workplace safety sign and product safety label.
The video is narrated in part by Geoffrey Peckham, Clarion CEO and chair of both the ANSI Z535 Committee for Safety Signs and Colors and the U.S. Technical Advisory Group to ISO Technical Committee 145 – Graphical Symbols.
According to the ANSI Z535.4 Standard for Product Safety Signs and Labels, warning labels should meet the expected life of the product as well as the anticipated environmental conditions that the product will be exposed to. The typical, well-produced sign or label has four basic material components: the protective overlaminate, color image, base material and adhesive. All of these material layers are critical; if one fails, the entire sign or label may fail.
"You can make all of the right decisions with regard to the content of your labels and signs, but if the materials they are manufactured with do not hold up to the environment of use, all of your efforts to post adequate warnings will be for nothing," says Peckham. "A safety label or sign must be seen—and be seen clearly—to be understood. When degradation or a complete material failure occurs, that objective is hampered."
The video is available through the Clarion website's video library as well as through the company's YouTube channel. Additional, up-to-date information covering a wide range of topics related to effective safety signs and labels can be found in Clarion's online workplace safety sign and product safety label Learning Center.
Clarion's product lines of workplace safety signs, water safety signs and product safety labels offer the finest 3M adhesives, base materials and overlaminates, for products that withstand environmental and surface conditions where others fail. The company is part of an elite group of 3M-designated Preferred Converters, and offers a wide range of material options to choose from to meet custom requirements.
ABOUT CLARION SAFETY SYSTEMS
Clarion Safety Systems, LLC, is the leading designer and manufacturer of visual safety solutions that help customers in more than 180 industries worldwide to make their products and premises safer. Clarion offers a full range of standard and custom products including machinery safety labels, environmental and facility safety signs, pipe and valve identification markings, lockout/tagout products, and safety-grade photoluminescent egress path-marking escape systems. Founded in 1990, the company continues to play a leading role in the development and writing of international and national standards for safety signs, labels, and markings. Clarion is headquartered at 190 Old Milford Road in Milford, PA, 18337, and online at http://www.clarionsafety.com.