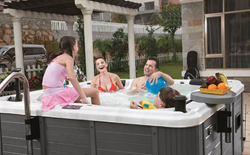 (PRWEB) November 20, 2014
XC Spa is a famous spa product company offering many high quality outdoor spas and hot tubs. And its products are distributed around the world. Today, the business announces its new products, which are offered at discounted prices until Dec 15, 2014.
XC Spa's outdoor spas are well-known in the industry. The company is backed by some of the biggest names in the spa industry, and it has plans to expand on its spa product for persons and small businesses. Premium customer service, top quality, fast delivery and low prices feature XC Spa.
XC Spa is a renowned spa product company in the designing and manufacturing spa products, and its products consist of far infrared sauna, outdoor spa pools and more. These models come in many different designs. For example, its hot tub 812 is designed for 1 person to lie and 5 persons to sit inside while enjoying the massage and spa.
The CEO of XC Spa says, "We're proud to announce the promotion. We're inviting all our clients, without whom, we wouldn't be where we are today, to visit our factory in China. We love you guys!"
About XC Spa
XC Spa is a ISO9001:2000 certified company offering a wide range of Spa products, especially hot tubs, outdoor spa and swimming spa tubs. The company's products go through a strict quality-control process, and they are resistant to weathering, warping and scoffing. Premium product quality and great customer service are the reason that their products are widely recognized by the customers worldwide.
For more information, please visit: http://www.xcspa.com/