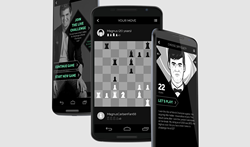 Playing against Magnus on the Play Magnus app is like playing against him in real life
Oslo, Norway (PRWEB UK) 18 November 2014
Play Magnus is already available on iOS and is fast approaching 200,000 users in more than 200 countries. Kate Murphy, CEO at Play Magnus, says the interest in chess has increased dramatically following the latest World Chess Championships, in Chennai in 2013 and currently taking place in Sochi. She hopes that even more people will be captivated by the fascinating sport.
"Playing against Magnus on the Play Magnus app is like playing against him in real life," says Murphy. "The app is tuned to play just like Magnus, at all age levels. The app "thinks" just like Magnus would at the various stages in his playing career," says Murphy.
The Android version of Play Magnus has the same components as the iOS version, but in addition, it is also possible to register points earned, share the games and play the same game over again. Murphy says Android smartphone users have already shown great interest.
"Particularly on the Play Magnus Twitter account, people ask on a daily basis when the Android Play Magnus app will be launched. Therefore we are very pleased to launch it now," says Murphy.
Play Magnus recently released a beta version of the Android Play Magnus app. Magnus Carlsen says his goal with the chess app is to inspire more people to play chess. He wants to show kids and young people chess is exciting and fun.
"I want to inspire more people to play chess, particularly children. Learning chess at an early age improves problem solving skills and logic thinking. With the Android version, even more people around the world can play chess against a chess engine that plays just like me," says Carlsen.
Globally, around 65% of smartphones owners use an Android operating system. The extension of the Play Magnus app will open up the game to many more smartphone users and chess enthusiasts around the world.