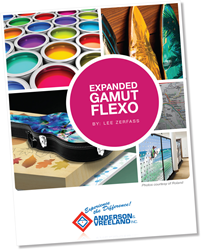 Adoption of extended gamut printing is already having a substantial impact on the flexo market.
Bryan, OH (PRWEB) November 18, 2014
Owners of flexographic printing companies are hearing about improved efficiencies and higher profit margins through the use of extended gamut printing techniques replacing present CMYK + spot color workflows that currently dominate the US flexographic printing industry. A new "Extended gamut flexo, where is it going?" white paper produced by Anderson & Vreeland, Inc., leading manufacturer and distributor of flexographic plate processing equipment and materials, explains why the timing is right for extended gamut flexo and profit opportunities for printers.
Extended gamut printing has been around over 20 years, but has been limited to offset printing due to historic limitations of the flexo printing process. This is all changing due to better presses, plate-making equipment/practices and color itself.
"New computer-to-plate technologies, innovations in flexo plates and pressroom productivity improvements have made the extended gamut process affordable for small to mid-size converters," explains Lee Zerfass, Digital Business Manager for Anderson & Vreeland. "Adoption of extended gamut printing is already having a substantial impact on the flexo market," added Zerfass.
The white paper explains key processes that need retooling for extended gamut flexo and the benefits, including extreme efficiencies that are currently being realized by major U.S. flexo converters. To download the entire white paper for free, visit http://flexodaily.andersonvreeland.com/new-white-paper-reveals-timing-is-right-for-extended-gamut-flexo.
About Anderson & Vreeland, Inc.
Founded in 1961, Anderson & Vreeland has earned an international reputation as a leading provider of flexo prepress solutions for the graphic arts industry. The company offers a "systems" approach to conducting business by evaluating customer needs and offering the best solutions in the form of equipment, materials, training, and technology tailored for each customer. A&V supports these solutions with over 50 years of experience and a staff of technical sales representatives thoroughly knowledgeable about the fine points of flexo. The company's substantial flexo experience and technical support sets it apart from other prepress suppliers. This experience and support results in smoother and easier integration of technical advancements affecting flexo prepress. Further information is available on the web at http://www.AndersonVreeland.com.