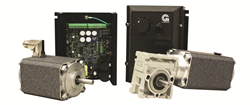 Sioux Center, IA (PRWEB) November 19, 2014
Working to set the standard for quality in the fractional horsepower motor industry, Groschopp, Inc. introduces a highly reliable, robust, and economical Brushless DC Motor and Control package. Groschopp's family of brushless DC motors and gearmotors have been tested for pairings with the brushless DC control product line giving engineers a brushless DC motor and control package designed for optimal operation.
Groschopp's brushless DC motors are highly efficient and provide high power density, all in a compact design. The closed loop controls are designed to deliver commutated power and variable speed control, maintaining excellent speed regulation over a wide range of loads.
Characteristics

Up to 85% efficient
No maintenance
High torque
Commutated power
Variable speed control
Features
Motors

2,600 – 3,800 RPM
1.8 – 10.8 in-lb torque
1/7 to 1/3 HP
Aluminum frame
Controls

Closed loop speed regulation
Line and low voltage
Chassis mount & NEMA 4X enclosures
Analog & Digital
Options

Holding Brake
Foot Mount
IP66
All standard Brushless DC Motor/Gear Motor and Control packages are available through our 48 Hour Custom Gear Motor service with or without customizations.
Compact, economical, and efficient, Groschopp's Brushless DC Motor and Control packages are ideal where high torque, high speed, quiet operation, and low maintenance are needed.
For over 80 years, Groschopp Inc. has delivered expert technical assistance, superior product performance, quality-honed workmanship and industry experience in the manufacture of highly engineered fractional horsepower electric motors and gear motors for OEM and distribution products. With products designed and manufactured in the USA, Groschopp offers a full line of AC, DC, brushless DC and universal motors along with right angle worm, planetary, right angle planetary or parallel shaft gearboxes. (An ISO 9001:2008 registered company.)