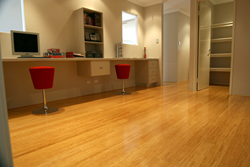 (PRWEB) November 18, 2014
The renowned bamboo flooring company BambooFlooringChina.com is now launching a bamboo plywood promotion to celebrate its recent success in the market.
BambooFlooringChina.com attended the 116th Canton Fair last month, and signed at least five contracts contracts with foreign companies. Some clients visited BambooFlooringChina.com's factory in Xuancheng, China.
According to the CEO of the company, the bamboo plywood promotion is valid until Dec. 15, 2014. Besides bamboo plywood, other bamboo products are also offered with discounts for the customers.
The bamboo flooring from BambooFlooringChina.com is extremely durable. It comes with a smooth and dust-free surface, which makes it very easy to maintain. Bamboo flooring is ideal for allergy and hay fever sufferers.
"Our bamboo plywood comes in a range of attractive colors and finishes, which will help to add beauty to your home. We take pride in offering premium quality, eco-friendly bamboo products to global consumers," the CEO adds.
About BambooFlooringChina.com
BambooFlooringChina.com has been making high quality bamboo products for many years. It is selling a huge selection of elegant items for the international customers: strand woven floorings, lumbers, outdoor deckings, plywoods, fences and so on. The company always strives to benefit all its old and new clients; its top designers are working hard to make more durable items.
For more information about its new items, customers can visit: http://www.bambooflooringchina.com/.