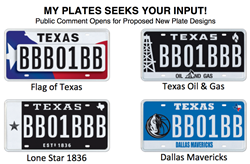 (PRWEB) November 17, 2014
My Plates invites the input of Texans for its four proposed new license plate designs. The TxDMV opened its online eView to invite public comment on proposed new license plates from Tuesday, November 12, to Thursday November 21, 2014.
Among the new specialty license plates being proposed are four from My Plates:
1. "Flag of Texas"
2. "Texas Oil & Gas"
3. "Lone Star Black 1836"
4. "Dallas Mavericks" blue design
Those wishing to participate in the "e-View" can go to:
http://www.myplates.com/go/eview
If Texans wish to register their interest in buying any of the proposed new My Plates designs, they can visit: http://www.myplates.com/ComingSoon
Following the "e-View", the TxDMV Board will consider the proposed new plates in their February 2015 meeting. If the Board approves the My Plates designs, the renewed, amended contract requires My Plates to achieve 200 commitments before these new plates will be released to the market.
Contact Steve Farrar at (512) 633-7978 or steve(at)myplates(dot)com
Image download:
https://ce9a9387e1bc258c3cfa-af7906f4e771b24864bbfa3048e4a635.ssl.cf2.rackcdn.com/Four%20proposed%20plate%20designs%20jpg..png
My Plates designs and markets new specialty license plates as a vendor for the Texas Department of Motor Vehicles. Texans have bought more than 210,000 My Plates since November 2009, putting more than $27M in the state general revenue fund. My Plates' goal is to create a long-term, mutually beneficial relationship designed to maximize revenues for the state through the sale of My Plates specialty plates. http://www.myplates.com.
The Texas Department of Motor Vehicles (TxDMV) is charged with overseeing the state's motor vehicle services that provide consumer protection, assist motor vehicle-related businesses and raise revenue for the state. For every $1 it spends, the TxDMV returns $10 to build and maintain highways, roads and bridges and provide needed services to Texans. The agency registers more than 23.8 million vehicles; regulates vehicle dealers; credentials buses and big trucks for intrastate and interstate commerce; issues oversize and overweight permits; and awards grants to law enforcement agencies to reduce vehicle burglaries and thefts. Learn more at http://www.TxDMV.gov.