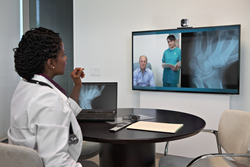 London, UK (PRWEB UK) 18 November 2014
Polycom, Inc. (Nasdaq: PLCM), the global leader in video, voice and content collaboration solutions, outlines the top six ways video collaboration, including telemedicine or telehealth, is making a positive impact on the healthcare industry. Video collaboration is quickly becoming one of the most effective means to communicate and collaborate in business today—and healthcare is no exception. Collaboration technologies are helping healthcare organisations of all sizes connect patients to the best care possible regardless of distance and time. The result: better outcomes, improved productivity, cost savings, and most importantly, more coordinated and effective care.
1. Changes Patients Outcomes
Time is one of the most critical risk factors in healthcare. For stroke victims, access to an expert and therapy within a three hour window can mean the difference between a stroke victim having a full recovery versus spending the rest of their life dealing with permanent damage and rehab. Video connects the distant specialists to clinicians avoiding time lost to transportation. Here is an example of how patient outcomes have been improving in Germany.
2. Gives More Patients Access to (Specialised) Care
A patient's needs may go beyond what is available to them locally. With the help of a video-enabled mobile application on their smartphone or tablet or even at their own home, patients no longer need to travel long distances to meet with best-in-class specialists. They can connect "face-to-face," in real time for a high-quality consultation with an expert—virtually anywhere. Read how home dialysis by video empowers patients in the UK.
3. Improves Productivity
Few industries have more research and information available to review and act on than in healthcare. By breaking down the barriers of distance using video collaboration, medical practitioners can learn about best practices, new and innovative treatments, and work together to solve the biggest health challenges like elderly care. To be effective and to get people involved quickly, video collaboration provides a venue to boost productivity of healthcare facilities all around the world. See how Elleuno helps employees boost productivity in Italy.
4. Reduces Re-hospitalisations and Accelerates Recovery
Video is beginning to help healthcare facilities reduce patient re-admittance—critical to today's healthcare standards. Video plays a role in helping hospital discharge nurses to adequately relay recovery information and monitor a patient's compliance of their care instructions. With regular interaction with the patient beyond the hospital walls, doctors and nurses are able to more readily monitor progress and identify areas where a relapse might occur. Here is how specialists at Evelina London Children's Hospital in the UK are reviewing the heart scans during critical surgery hours to avoid the relapse of heart problems.
5. Helping with Healing
To be able to extend healthcare services to help the needy with healing is a major challenge when it comes to rural and remote areas. Video is helping healthcare facilities to connect their specialist medical staff located in the major cities to the rural and remote areas. GCS e-Santé Picardie in France is helping aging population living in rural areas of Picardie by overcoming the challenge of limited healthcare facilities and difficulty attracting new doctors.
6. Cost Savings Where it Counts
Healthcare facilities are looking for budget-conscious ways to improve both operations and patient care. Video collaboration solutions support regionalisation of specialised healthcare workers, such as virtual case managers who share a distributed case load for better efficiencies. Greater collaboration across public health departments results in savings of hundreds of thousands to millions of dollars, which can be reallocated to new programs, practices or technologies. A government agency, Norrbottens Läns Landsting (NLL), in Sweden is overcoming the challenge of delivering best healthcare services in a very large but sparsely populated area.
Healthcare organisations the world over are turning to collaboration solutions to improve care and reduce costs. Collaborative healthcare solutions from Polycom enable patient-centered care, multi-disciplinary team support, reduction of unnecessary re-hospitalisations, and collaboration across the entire healthcare team independent of physical barriers. Learn more about how Polycom is helping healthcare organisations by visiting the company's website.
About Polycom
Polycom helps organisations unleash the power of human collaboration. More than 400,000 companies and institutions worldwide defy distance with secure video, voice and content solutions from Polycom to increase productivity, speed time to market, provide better customer service, expand education and save lives. Polycom and its global partner ecosystem provide flexible collaboration solutions for any environment that deliver the best user experience, the broadest multi-vendor interoperability and unmatched investment protection. Visit http://www.polycom.co.uk or connect with us on Twitter, Facebook and LinkedIn to learn more.
For further information please contact
Sarah Lloyd/ Sonal Bisht
EMEA Communications, Polycom
Sarah(dot)Lloyd(at)polycom(dot)com / Sonal(dot)Bisht(at)polycom(dot)com
© 2014 Polycom, Inc. All rights reserved. POLYCOM®, the Polycom logo, and the names and marks associated with Polycom's products are trademarks and/or service marks of Polycom, Inc. and are registered and/or common law marks in the United States and various other countries. All other trademarks are property of their respective owners.