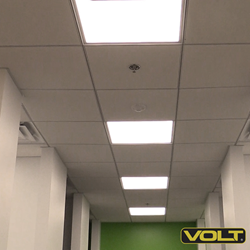 Employees report a substantial improvement in their work environment.
Tampa, Florida (PRWEB) November 18, 2014
VOLT® Lighting, a manufacturer of low-cost high-performance lighting products, announces the addition of flat, edge-lit LED panel lights to their existing line. These new LED fixtures replace traditional fluorescent lights. They result in significant energy saving and illumination that is more diffuse and evenly distributed. Another benefit is that (unlike fluorescent lights) these LED panels can be dimmed.
LED panel lights are recent innovations in the lighting market. Unlike LED bulbs that have a similar shape and appearance to the bulbs they replace, LED panels are markedly different from their fluorescent predecessors; while they have the same width and length as fluorescent fixtures, they are remarkably thin (less than 1 inch). VOLT® accomplishes this by using a unique edge-lit design with LEDs embedded along all four edges of a translucent sheet. This sheet disperses and diffuses the light to provide a uniform distribution of illumination. VOLT® LED Panels are dimmable and come in two color temperatures and two sizes.
Rich Ferraro, VOLT® Director of Operations, remarks on the new product addition, "Among all the LED products we've introduced, the LED Flat Panels are the most remarkable. We installed these fixtures throughout our headquarters and the results are striking. We had two primary reasons for installing the panels – cost savings and improvement of illumination quality. No one likes to work under fluorescent lights. Since adding these new LED panels, our employees report a substantial improvement in their work environment and especially like the fact that these lights can be dimmed."
VOLT® Lighting's introduction of LED panel lights is another step in their plan to provide high quality, low cost LED replacements for all commonly used lighting fixtures and bulbs. Other recent introductions include LED strip lights, under cabinet lights, recessed down lights, and a variety of LED bulbs.
VOLT® Lighting enjoys top ratings for their product quality and customer service. This is evidenced by their status as a Google Trusted Store with a score of 100% for customer service and 99% for fast shipping, with an average of 1-day shipping time. Google reviews for VOLT Lighting enjoy a rating of 4.9 stars (out of 5.0).
Alan Brynjolfsson, president, remarks on plans for future rollouts, "As the LED revolution forges ahead we will continue in our role as preferred provider of these innovative products. Through the efficiencies of our operations, and with our commitment to quality and service, we facilitate the industry's adoption of LED technology; we bring confidence, affordability, and streamlined distribution to the market."
About VOLT® Lighting
Based in Tampa, Florida, with East- and West-Coast distribution centers, VOLT® Lighting manufactures low-cost, high-performance indoor and outdoor lighting products. For more information go to http://www.voltlighting.com.