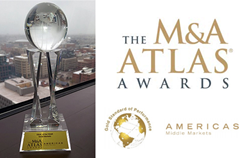 With the help of Headwaters MB, we found a great company that expanded our footprint, client base, and service offerings. It literally was the perfect fit for us and for Center Partners.
(PRWEB) November 18, 2014
Qualfon, a leading business process outsourcing (BPO) and call center service provider, announced today that its acquisition of Center Partners was recognized by the Global M&A Network as the small-market deal of the year for 2014. Headwaters MB, the company that advised Qualfon in its acquisition of Center Partners, was named the winner of the Americas M&A Atlas "Deal of Year" Award in the small-market category, specifically for Qualfon's acquisition of Center Partners from Kantar, a subsidiary of WPP Group.
The M&A Atlas Awards validate corporate growth and the private equity investment strategies, as well as the organization brand leadership position for successfully executing value-generating transactions valued below one billion USD in the North and South Americas. Headwaters MB accepted the award at the annual Americas M&A Atlas Awards ceremony, held on October 30, 2014 in New York.
"We think that the team from Center Partners is a terrific addition to the Qualfon family," said Mike Marrow, CEO of Qualfon. "With the help of Headwaters MB, we found a great company that expanded our footprint, client base, and service offerings. It literally was the perfect fit for us and for Center Partners."
On May 7, 2014, Qualfon announced that it acquired the business of Center Partners, a United States contact center outsourcing company that over the last 17 years built an excellent reputation with its clients in the communications, financial, technology, and retail industries. Center Partners had six contact centers across Idaho, Washington and Colorado with approximately 2,500 employees who were added to Qualfon's 10,000 employees and 11 contact centers, primarily in near-shore and off-shore locations.
Qualfon acquired Center Partners as part of its client-driven growth strategy for expanding geographies and providing expertise in key service offerings. As a result of the integration, Qualfon now offers:

An outstanding balanced global footprint of on-shore, near-shore and off-shore delivery locations
Deep Expertise in Care, Technical Support, Sales and Back-Office Processing Services
Combined Experience across Multiple Industries
An Expanded Portfolio of Top Tier Clients
About Headwaters MB
Headwaters MB is an independent, middle-market investment banking firm providing strategic merger and acquisitions, corporate finance services and merchant banking through proprietary sources of capital. Headwaters is headquartered in Denver, CO, with 6 regional offices across the United States and partnerships with 18 firms covering 30 countries. For more information, visit http://www.headwatersmb.com and keep up with us on Twitter at twitter.com/brendanburke.
About The Global M&A Network
Global M&A Network produces world-class conferences and the Gold Standard of Performance, the M&A ATLAS AWARDS™® for mergers, acquisitions, turnaround and alternative investor communities. Our conferences are organized to facilitate discussion, debate and direct inquiry of ideas by enlisting eminent leaders and experts to share their business building ideas, deal intelligence and strategies. Success stems from senior management's 40 plus years of collective experience executing preeminent financial industry programs in America, Europe, Asia, Australia, Latin America, Africa and Middle-East regions. Significantly, the senior team has worked for leading Wall Street investment banking firms; media; conferences and strategic consulting organizations. To learn more visit http://www.globalmanetwork.com.
About Qualfon
Qualfon is a people-driven business process outsourcing (BPO) company and a global provider of call center services and back-office processing. With experienced BPO leadership and a strong track record of business growth dating back to our founding in 1996, Qualfon helps companies reduce costs and deliver superior customer experiences. Today, we have 11,000 employees serving international brands across many industries, and our intelligent outsourcing locations span the United States, the Philippines, Guyana S.A., Mexico, and China. Qualfon's mission to "Be the Best BPO, Make People's Lives Better" means we invest in our people and, in return, they take better care of you and your customers. Qualfon's employee retention is twice the industry average, which creates a people-driven value chain: Our employees stay longer, providing you a higher quality service at a lower price. http://www.Qualfon.com