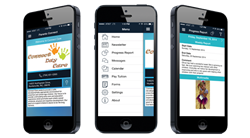 Bridge Communication with Parents and Child Care Providers
Charlotte, NC (PRWEB) November 19, 2014
As a single parent, Greg Harrison, founder and CEO of Parents Connect App, is no stranger to the struggles of time management with a corporate career and caring for his daughter. Recognizing the gap in communication between his daughter's child care providers and himself, as well as other parents, he put his thoughts into action and developed one of the most innovative products in the early education industry – http://www.ParentsConnectApp.com
"Parents Connect App enables child care centers to improve communication with their parents, and staying connected to them is key," said Greg Harrison.
Some of the features parents receive, via a smart phone or tablet based App are: calendar sync, child progress reports with photo or videos, sending and receiving messages with daycare center, push notifications sent for emergency or non-emergency events, newsletters, and forms filled in and submitted to the daycare. Parents also have the ease of now using the App to pay tuitions or dues to their center.
Parents Connect App Dashboard allows centers to easily record and maintain documentation of: progress report sheets, incident reports, forms submission, tuition payments, and communications with parents. It also allows real time communications with staff as well as with parents through instant messaging. Corporate managers or owners of centers have the ability to monitor all transactions and communications and easily transmit this information to their parents. Via the App on their smart phone or tablet, parents have an easily accessible way to retrieve, view, and store the information child care centers offer parents.
http://www.parentsconnectapp.com