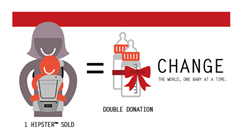 Los Angeles, CA (PRWEB) November 17, 2014
The day of the HIPSTER™ has arrived. The versatile, ergonomically designed, nine-way, baby carrier from MiaMily is now available for purchase and fast delivery for the holiday travel season at http://www.miamily.com. The HIPSTER features a lumbar supporting carrier belt that distributes baby's weight evenly throughout the wearer's lower back and shoulders and a safe and comfortable hip seat for baby that permits greater access to see and explore surroundings without feeling closed in.
Appropriate for use once baby's back muscles are sufficiently developed to hold its neck and head up (typically about three-months old), HIPSTER can also support toddlers up to 44-pounds, (typically about three years old). The seat base is designed wide enough so that baby's hips are in a healthy position with legs slightly lifted and supported at hip level to prevent hanging and dangling limbs.
The HIPSTER can be worn as either a single or double shoulder-top carrier or simply as a hip seat and can hold baby facing in, out, to the side and even in the traditional back style when the double shoulder straps are employed. Constructed of durable and easy to clean nylon, the simple to use HIPSTER system includes such intuitive extras as an extender that elongates the belt of the hip seat to approximately 55-inches; a front pocket layer that keeps baby cozy in cooler weather and is removable during the warm summer season; two teething pads that wrap around the double shoulder straps, are removable for easy cleaning, and adjust to the level of baby's head; a removable cover that supports a sleeping baby's head and blocks distractions that might otherwise disturb slumber; and a travel bag to store HIPSTER when it's not in use. The travel bag itself folds into a space-saving pouch when HIPSTER is in use.
Embraced almost immediately by the innovation-oriented Kickstarter crowd, the hot, new HIPSTER achieved "staff pick" status within 24-hours of its introduction, surpassed its 30-day investment goal in only six days, doubled it again in 21-days and near tripled the original $25,000 goal by month's end, finishing firmly ensconced among the top few of nearly 10,000 design offerings.
Their encouraging success on Kickstarter only reinforced MiaMily's commitment to help babies in extreme need. So it is that MiaMily donates baby formula to help some of the world's hardest hit orphanages.
"In these cases," explains MiaMily CEO Cecilia Tsai, "it is not a question of choosing baby formula over mother's milk. It is about choosing baby formula over starvation.
"We also try to source and donate baby formula from vendors near the orphanages. This is to support the local economy, so that the community can benefit as well, and also to ensure that we are providing formula that best complements local dietary needs."
With the international launch of the HIPSTER on November 17, 2014, MiaMily will double their baby formula donations to orphanages in need for every HIPSTER baby carrier sold through the end of this year.
HIPSTER meets U.S/Canada safety standards ASTM F2236 and CPSIA 2014, and the Consumer Product Safety Improvement Act of 2014. In Europe HIPSTER meets the EN71-3 standard. Globally HIPSTER™ meets safety standard EN13209-2:2005. The raw materials found in the PU foam insert used in HIPSTER hipseat are fire resistant and non-toxic, verified through SGS testing. SGS, is a world-leading inspection, verification, testing and certification company.
Priced at US$169.00, the HIPSTER is offered in aqua, ruby, olive-green and beige. HIPSTER is a registered trademark of MiaMily, a Swiss brand based in Lugano, Switzerland with a North American presence on both coasts. For additional information, hi-res images or to schedule an interview with MiaMily spokespersons, contact: Nicole Beach at 301-573-3148.