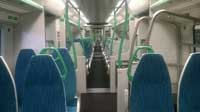 This is great news for our Gatwick passengers
(PRWEB UK) 18 November 2014
There was great news for Gatwick Express passengers today (18 November) as Govia Thameslink Railway announced it had signed a £145.2 million order for 108 new custom built train carriages. The new Gatwick Express trains are due to enter service in 2016, replacing the 1980s-built 442 trains which have been operating on the Gatwick Express service since 2008, and will mark the start of a massive investment in new trains by GTR.
The 27 four-car Class 387/2s trains will be specially designed for the rail air route with easier boarding, better luggage space, two by two seating and wi fi.
Charles Horton, CEO of GTR and Managing Director of Southern, said: "This is great news for our Gatwick passengers, but also for those travelling from Brighton, as in the off-peak some of these trains will be extended to there, while still maintaining the fast connection between Victoria and Gatwick."
The new order comes as GTR celebrated the arrival of the first of another new fleet of new trains, the Class 387/1s. The fleet of 116 air-conditioned carriages, which will transform Bedford to Brighton services for Thameslink passengers, will be trialled in passenger service throughout December and from the New Year will begin to replace the 27-year-old Class 319 trains currently on this service group.
The new Bombardier-built Thameslink 387/1 fleet will boast:

two-by-two seating,
air-conditioning,
the latest automated on-board service information
and excellent facilities for people with disabilities.
Mr Horton added: "We took over the operation of the Thameslink route in September and already we are introducing new trains which will transform our passengers' journeys on services between Bedford and Brighton."
Smart Thameslink train interiors: This interior shot of a Thameslink train (this is not a Gatwick train) can be downloaded from https://drive.google.com/folderview?id=0B37S24j3JgC7R3Z2dnRRQktvTkU&usp=sharing
Southern ordered the fleet last year to help facilitate the Department for Transport's Electrification Programme until the Siemens built Class 700 Thameslink trains enter service. They will secure an increase in capacity for rail passengers by allowing the early release of other electric carriages to newly electrified routes.
Together the fleets represent a £317 million investment in railway rolling stock.
Rail Minister Claire Perry welcomed today's announcement that Bombardier would be providing the new Gatwick Express trains, which will be built as a run-on to the existing 116 carriage order, saying: "These new British built trains are great news for passengers and a boost for the economy. They will transform journeys on the Gatwick Express and Thameslink routes and safeguard jobs at Bombardier's Derby factory.
"As part of our long term economic plan over £38 billion is being invested in improving our railways over the next five years and it's great to see companies like GTR investing in the service it provides for its customers."
Southern also today confirmed Porterbrook Leasing as the financier of both the Class 387/1s and the new Gatwick Express fleet following a procurement competition earlier this year.
Paul Francis, Managing Director of Porterbrook said "We're delighted to have been appointed financier for the purchase of these new custom built trains for the GTR franchise. Given Porterbrook's recent change of ownership this confirms the ongoing commitment of the company and its Shareholders (Alberta Investment Management Corporation ("AIMCo"), Allianz Capital Partners ("ACP"), EDF Invest and Hastings Funds Management) to continue to invest in new rolling stock."
ends
Notes to editors
1. The Class 387 trains are the latest version of Bombardier Transportation's Electrostar. The 387/1s will be steadily rolled out on Bedford to Brighton services so that in May virtually every train on this service group will be an Electrostar. They will remain in service into 2016 when, from the spring, an even newer fleet of next-generation Class 700 trains will be steadily introduced as part of the government-sponsored Thameslink Programme, with more carriages for many longer services and, from 2018, more frequent services on parts of the route.
2. Govia Thameslink Railway
Govia Thameslink Railway (GTR) began running Thameslink (Bedford to Brighton, Sutton and Wimbledon) and Great Northern (London to Peterborough, Cambridge and King's Lynn) rail services on Sunday 14 September. A small number of services and stations currently operated by Southeastern will transfer to GTR in December 2014 and in July 2015 the Southern and Gatwick Express routes will be incorporated into the franchise. GTR will then be the largest rail franchise in the UK in terms of passenger numbers, trains, revenue and staff: GTR will carry about 273 million passenger journeys per year, employ around 6,500 people and generate annual passenger revenues of approximately £1.3bn. http://www.gtrailway.com