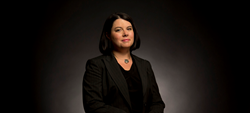 Some of life's most poignant moments–from childbirth to a cancer diagnosis–occur in the spaces we design. Ultimately, these spaces are about people and supporting them in a quiet and beautiful way.
(PRWEB) November 25, 2014
Celebrating their 10-year anniversary, The American Academy of Healthcare Interior Designers announces their 2015 Board of Directors. Drawing from a broad range of industries and dedicated professionals, AAHID has announced that Laura Morris, AAHID, LEED AP BD+C, IIDA, Lean Green Belt has been elected onto the Board of Directors. The American Academy of Healthcare Interior Designers is a not-for-profit organization that certifies interior designers who demonstrate the knowledge and experience required to work in the healthcare industry.
Laura, a graduate of Texas Tech University, designs interior spaces with a goal of combining both healthcare planning and unique design solutions. Laura's healthcare design experience spans over a dozen years and across all service lines. Laura's current endeavors include ambulatory care centers, cancer centers, inpatient units and pediatric spaces. As a LEED Accredited Professional who has been involved with designing LEED Gold healthcare facilities, Laura works with clients to select durable, environmentally-friendly finishes that contribute to healthier interior environments, energy efficiency and waste reduction. In Laura's blog, many facets of healthcare interiors are covered, including an in-depth video regarding the importance of flooring choices in hospitals.
Since AAHID formed in 2004, the organization has been assisting hospital administrators, architects and design firms by identifying the interior designers who are the most qualified in ensuring the health, safety and welfare of medical professionals, staff and patients & their families. AAHID is committed to creating the best environments for healing and healthcare delivery.
Since 1983, Array Architects has been recognized as one of the nation's leaders in the design of healthcare facilities and offers a full complement of knowledge-based services including planning, architecture, interior design and advisory services from our six office locations. Our devotion to a healthcare-exclusive practice springs from our belief in the power of design to improve patient outcomes, maximize operational efficiencies, increase staff satisfaction and provide remarkable results for our clients.