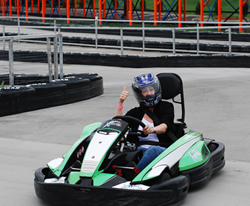 "Developing new ideas is a passion of mine and then to see families creating memories makes it all worth it." -Perry Smith
PIGEON FORGE, TN (PRWEB) November 18, 2014
Ladies and Gentlemen, get ready to start your engines: USA TODAY has named the SpeedZone Fun Park in Pigeon Forge, Tennessee, one of the Top 10 Great Go-Kart Tracks to Visit Across the USA.
SpeedZone Fun Park has been thrilling families in the Smoky Mountains since the garage doors opened on January 25, 1996. In the nearly 20 years since, the attraction has grown into a true vacation destination with many track styles and all kinds of entertainment options for racers of all ages to enjoy.
PigeonForge.com owner Jessica Bookstaff Doppelt is proud to share a hometown with this award-winning attraction and entrepreneur Perry Smith, the man behind SpeedZone Fun Park and several other Smoky Mountain attractions.
"SpeedZone is more than just a fun place to spend an afternoon," Doppelt said. "The park and its developer, Perry Smith, have helped shape the Smokies into a true family-friendly vacation destination and has inspired decades of growth along the Parkway, which has helped individuals and families fall in love with East Tennessee."
SpeedZone landed its position on the national list thanks to its variety of offerings. SpeedZone's "Twister Track" is a custom track that winds to the top and plunges down to the bottom and starts all over again. The "Coaster Track" provides racers with big hills, exciting turns, and thrilling curves. The one-of-a-kind "Slick Track" gives drivers the unique excitement of "fading" into the turns at speeds up to 40 mph. Finally, the "Kids Track" where the youngsters can take the wheel and have a turn at driving.
"I love to see families getting together to have fun," SpeedZone's Smith said. "Developing new ideas is a passion of mine and then to see families creating memories makes it all worth it."
Smith's expansive network of attractions means that guests to the go-kart park can expect options to save money while on vacation. SpeedZone offers a Park Hopper Pass which gives guests the ability to play at three other Smith family attractions giving guests big discounts. Attractions in the Smith network include several other Smoky Mountain attractions such as the Adventure Park at Five Oaks and Legacy Mountain Premier Zipline in Sevierville, Tennessee, and Xtreme Racing Center and LazerPort Fun Center of Pigeon Forge, Tennessee. Perry Smith Developments have also expanded west, with Adventure Ziplines and Xtreme Racing in Branson, Missouri.
"From racing at the award-winning SpeedZone Fun Park to flying through the tree lines to exploring the mountains at an adventure park, guests find so much to do in the Smoky Mountains," Doppelt said. "The family-friendly atmosphere behind local businesses and attractions is welcoming and engaging, making Pigeon Forge a premier destination for your family's next vacation. I'm so proud of Mr. Smith and everything he's done to make my hometown even more welcoming to guests from all over by giving them such awesome activities to enjoy."
Start planning the family's next Smoky Mountain adventure by clicking over to http://www.PigeonForge.com. Here guests have access to insider information about Pigeon Forge attractions – such as the award-winning SpeedZone Fun Park – along with discounts on lodging, local dining and so much more!
###
About PigeonForge.com:
Jessica Bookstaff Doppelt has helped thousands of people plan Smoky Mountain vacations since she launched PigeonForge.com in 2000. She grew up in Pigeon Forge and consider the Great Smoky Mountains her home. She is happy to share all the great things about the area and help you enjoy a perfect getaway through her website where you can easily browse lodging, attractions, restaurants, wedding information and more. For additional information, visit http://www.PigeonForge.com or follow PigeonForge.com on Facebook and Twitter.