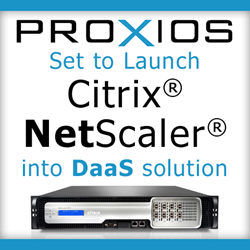 Richmond, VA (PRWEB) November 18, 2014
Proxios has announced that the soon-to-launch Citrix NetScaler® version of its Desktops as a Service (DaaS) offering will enhance the end user experience and increase service availability for new customers.
NetScaler® is the world's most advanced application delivery controller for mobile and web, maximizing the performance and availability of all applications and data. It is scalable to optimize, secure, and control the delivery of all Proxios customers and cloud services, and will maximize the end user experience.
Proxios continues to strive toward the absolute best ways of relieving businesses of the burden of IT concerns and complications. As a Citrix Service Provider, Proxios offers customized, business-ready desktops that are customized for law offices and legal services firms. The Proxios DaaS offering allows customers to focus on providing legal services, instead of managing IT.
Incorporating NetScaler® allows Proxios to offer the industry's leading service delivery platform, including for virtual network architectures. With the most comprehensive set of application security, acceleration, and load balancing (including GSLB) capabilities across the broadest range of platforms, customers are quickly provided the servers they need via the DaaS offering.
About Proxios
Proxios is headquartered in Richmond, Virginia and is the business of IT as a Service (ITaaS). As a pioneer in the field beginning the cloud journey in 1999, we have proven knowledge and experience to move customer infrastructure to the cloud, freeing customers to do what they do best, driving real business value from the applications that help run your business. We provide a wide range of cloud services to our customers throughout the United States and Canada including telephony and collaboration, business virtual desktops, and application hosting. For more information visit: http://www.Proxios.com.
About the Citrix Service Provider Program
Citrix provides the complete package for partners to build and deliver complete hosted workspace portfolios with hosted desktops, hosted apps, mobile device management and secure file share and sync, plus the infrastructure for self-service provisioning and secure networking. With Citrix, service providers have all of the elements to create scalable, reliable private or public cloud-based DaaS offerings.
More information about the Citrix Service Provider program can be found at http://www.citrix.com/csp Reach the Citrix Service Provider program team using social media via Twitter.