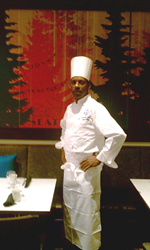 Downtown Seattle Hilton hotel welcomes new Executive Chef.
Seattle, WA (PRWEB) November 19, 2014
The Hilton Seattle Downtown hotel has announced the appointment of Lloyd Titus as Executive Chef. An industry veteran with over two decades of experience, Chef Titus joins the team in Seattle from his most recent role as Executive Chef at the Hyatt Regency Louisville, where he led the food and beverage team for six years.
Chef Titus' passion for cooking came at a young age, having held a variety of jobs in the restaurant industry before landing a position with the Hyatt Regency brand in 1992 and working his way up to the Executive Chef role at a number of prestigious Hyatt properties.
In his new role at the Hilton Seattle, Chef Titus will be tasked with overseeing all food and beverage operations of the 239-room full service hotel, including the on-site restaurant, redtrees restaurant + bar. Chef Titus will focus on menu development for both banquets and the restaurant, delivering outstanding food quality, overseeing the food and beverage team and ultimately delivering an outstanding guest experience.
The completely renovated downtown Seattle Hilton hotel proudly offers 6,000 square feet of flexible meeting space, a convenient downtown location and luxurious accommodations with panoramic views of Seattle and the Olympic Mountains. Upgrades to this Downtown Seattle hotel include a complete room renovation, a new restaurant specializing in contemporary American Cuisine with a Pacific Northwest flair, the addition of a new Executive Lounge on the top floor featuring panoramic Seattle views, upgrades to the street level hotel entrance, and complete renovations to the lobby, front desk, Lobby Lounge, and function space. The most notable renovation is the Top of the Hilton, which is now a top floor meeting and banquet space and features breathtaking views of Elliott Bay, Seattle skyline, and the iconic Space Needle.
The downtown Seattle Hilton hotel is the perfect destination for leisure and business travelers alike. Guests enjoy a central location with close proximity to Pike Place Market, the Washington State Convention Center and many great Downtown Seattle dining and shopping options. Amenities include a fitness center, room service, business center, concierge services, on-site parking, over 6,000 sq. ft. of versatile meeting space, multi-lingual staff, in-room mini-refrigerators, and much more.