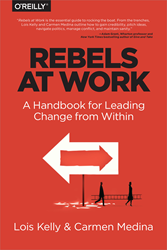 Our goal is to fix problems, not fixate on them.
Providence, RI (PRWEB) November 19, 2014
Imagine if you and your work mates were appreciated for challenging conventional thinking and proposing new ideas instead of being labeled as annoyances or troublemakers. Imagine how much more meaning and less drudgery, cynicism and complacency there might be in the workplace if people knew how to cut through corporate politics and bureaucracy to improve their organizations.
Former CIA executive Carmen Medina and marketing strategist Lois Kelly – both lifelong rebels at work – have written the book to help people learn how to do just this. Their belief is that with the right techniques and tools everyone can create positive change where they work, regardless of title or experience.
Rebels at Work: A Handbook for Leading Change from Within (O'Reilly Media; November 27, 2014; 182 pp) offers tools and practical wisdom on how to rock the boat at work in ways that get things done, and shows "good rebels" how to refine their thinking, improve their approach to work, and take better care of themselves so that they don't burn out or become cynical. It also includes personal stories from the authors, who have been remarkably successful and at time remarkably unsuccessful rebels at work.
The idea for the Rebels at Work movement and this book started when Lois heard Carmen speak at the 2010 Business Innovation Conference about creating change inside the CIA as a heretic and member of an informal lunch table "rebel alliance." There are plenty of books and advice for entrepreneurs and corporate executives, thought Lois, but no one seems to be helping the people inside big organizations create change, like Carmen did at the CIA.
From there she and Carmen got together and started researching, writing about and speaking with rebels around the world. While all their stories differ, their struggles and successful strategies are remarkably similar.
While most business books are written for the 10% of the workforce who are managers, Rebels at Work is written for everyone else – the 90% that can make the biggest difference.
What people are saying about the book:

Rebels at Work is the essential guide to rocking the boat. From the trenches, Lois Kelly and Carmen Medina outline how to gain credibility, pitch ideas, navigate politics, manage conflict, and maintain sanity. This lively, accessible book is full of practical wisdom for making sure that you don't become a rebel without a job. ~Adam Grant, Wharton professor and New York Times bestselling author of Give and Take
In Rebels at Work, Lois Kelly & Carmen Medina bust the myth that passionate and rebellious types will only thrive in small organizations. This valuable handbook is chock-full of charts, guidelines, stories and advice to help people make positive change in big companies – and to have fun doing it. It is an indispensable guide for both rebels and those who manage them. ~Diane Hessan, Founder and Chairman, Communispace; CEO, Startup Institute
At GovLoop we have 150,000 innovators trying to improve government from the inside, doing the difficult work of changing bureaucracy. Rebels at Work is our new playbook for making big changes in government. Lois Kelly and Carmen Medina's clear tips and strategies are essential for navigating large organizations and getting things done. ~Steve Ressler, founder and president, GovLoop
Rebels at Work is a brilliant guide for change activists who want to rock the boat and stay in it. As rebels at work we are too often marginalised and our great ideas go unheeded. Yet we are actually the salvation of our organisations. This book gives power to rebels at work everywhere. ~Helen Bevan, Chief Transformation Officer, NHS IQ, National Health Service, England
Story ideas:
Please feel free to use content from any of our many blog posts, presentations or videos in your stories.
Book info:

To get a review copy of the book, contact: Sara Peyton, O'Reilly Media, peyton(at)oreilly(dot)com