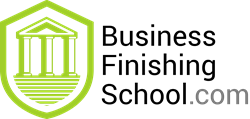 The concepts are simple and with the appropriate effort, BFS Business Mastery-Intensive Bootcamps will transform your business and your life.
Dallas, TX (PRWEB) November 19, 2014
Business Finishing School ("BFS") of Dallas, Texas will be hosting their 7th Business-Mastery Intensive Bootcamp, which is open to members, non-members, and the public. This intensive weekend seminar is geared towards business owners, executives, and entrepreneurs wanting to take their businesses to the next level. This event will be held February 27th to March 1st, 2015 in Dallas.
BFS is a leading business-growth education company that teaches business training beyond the usual marketing, accounting and management concepts. BFS believes that all businesses should sit on top of the 12 Foundational Principles of Business to maximize potential and growth. BFS has created a blueprint that virtually any business can implement in order to add systemization and predictability to growth and profit. By adopting these 12 principles, an organization will increase the probability of long-term success, while leveraging the talent of the employees
Ashleigh Mooney, Executive Director of Business Finishing School states, "There are so many business owners and entrepreneurs who feel overwhelmed; and hence their businesses are suffering. The sad thing is they have no idea what is really broken or how to fix it. Our BFS Business Mastery-Intensive Bootcamps teach people the foundational principles to set things right again. We'll teach you easy-to-leverage tools to get you back on track, which you can implement on Monday morning. I have seen businesses double and triple in size by effectively implementing these principles into their organizations."
BFS offers these bootcamps twice per year. Entrepreneurs from all around the globe come to attend these events to learn how to take their employees to the next level of production, while also supercharging their businesses.
"Business Finishing School has transformed my business. Before BFS I was lacking focus on many levels. Now that I have been at the events, I have become a stronger leader for myself, my family, and my business. I would recommend BFS to anyone who owns a business. The concepts are simple and with the appropriate effort, they will transform your business and your life," remarked Dr. Derek Strachan, previous Bootcamp attendee.
The upcoming 2015 Business Mastery-Intensive Bootcamp agenda will include topics and discussions such as:

How to take your business and life from chaos to calm.
How to find and refine your purpose.
How to develop a catalyzing statement.
How to properly create rhythms and consistency.
How to find, attract, and keep dedicated and talented people.
How to build a rock-solid foundation under your business.
How to transform your business from one-off sales to recurring revenue.
Seating is limited. These twice a year events sell out early, so please secure your seat at http://www.BusinessFinishingSchool.com.
About Business Finishing School, LLC- Business Finishing School is a blueprint that efficient, successful companies follow to maximize results. This "just add water program" is designed for business leaders, entrepreneurs, executives and staff to identify the road blocks in business that are preventing them from moving forward and allows them to wake up to their full business potential. The Business Mastery-Intensive Bootcamp sessions are open to non-members and the general public.