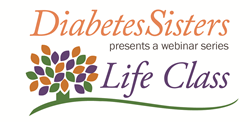 Durham, NC (PRWEB) November 17, 2014
DiabetesSisters is pleased to announce the organization's final Life Class Webinar of 2014, which will be held on Friday, November 21st, from 4-4:30 pm EST. Authors Brandy Barnes, MSW, and Natalie Strand, MD will host DiabetesSisters' Life Class Webinar to discuss their newly released book, A Woman's Guide to Diabetes: A Path to Wellness, released by the American Diabetes Association on November 7, 2014.
DiabetesSisters' Founder and CEO, Brandy Barnes, and CBS's The Amazing Race winner, Natalie Strand, know a lot about living with diabetes. Having been diagnosed with diabetes as teenagers, they are well aware of the issues that women living with diabetes face, and are passionate about educating and inspiring other women to live the best life possible with diabetes. The idea that women living with diabetes are not alone, and can learn from the insights and experiences of others is the premise of their new book, titled A Woman's Guide to Diabetes: A Path to Wellness.
The book examines subjects such as relationships, sexuality, exercise, and careers, as they relate to a woman's wellness in the holistic sense. All of the topics raised in the book can affect and be affected by diabetes, as Barnes and Strand suggest through personal experiences and learned understanding. The authors are able to support readers by maintaining a relatability and offering suggestions for many physical, emotional, and social challenges.
A Woman's Guide to Diabetes maintains an interactive element throughout multiple chapters, encouraging readers to journal their own stories, reflect on the information they have received, and transform goals into action in their lives. The authors also emphasize that readers "OWN" their diabetes. The acronym stands for Opening up, Winning, and Never being a victim. To Open up is to be able to talk freely and proudly about living with diabetes. Winning is centered on creating positives from difficult situations, and Never being a victim highlights the importance of taking control of your own life through your thoughts and actions. In these ways, women can feel empowered, rather than discouraged about their lives with diabetes, and can make choices that will continue to allow them to live healthy and meaningful lives.
The webinar will be hosted by both Barnes and Strand, as they discuss pertinent book topics, as well as answer questions provided by webinar participants. For more information or to register for this webinar, please visit https://diabetessisters.org/life-class-webinar-series. Questions for the authors may be directed to info@diabetesssisters.org using the headline "webinar questions". A Woman's Guide to Diabetes is available for purchase now at http://shopdiabetes.org/1641-A-Womans-Guide-to-Diabetes-A-Path-to-Wellness.aspx or by calling 1-800-232-6733, and available in bookstores nationwide on December 9th.
About the Authors:
Brandy Barnes, MSW, is passionate about serving as a voice for people with diabetes and has worked hard to achieve this in both the nonprofit and for-profit health care industries for the last 16 years. She has lived with diabetes for 25 years and founded the 501c3 national nonprofit organization DiabetesSisters in 2008, where she currently serves as CEO. The mission of DiabetesSisters is to improve the health and quality of life of women living with diabetes and at risk of diabetes, and to advocate on their behalf. For more information, please visit http://www.diabetessisters.org.
Natalie Strand, MD, is a physician known informally as "Dr. Nat." She has lived with diabetes for over 23 years, and has had much success as a motivational speaker and spokesperson for the diabetes community by promoting an active, healthy lifestyle and a holistic approach to wellness. Dr. Nat received much recognition for practicing this lifestyle, and being part of the first female team to win the reality series The Amazing Race on CBS. In this adventure, she traveled 32,000 miles in 3 weeks, and has used this experience to inspire other women living with diabetes to reach their full potential. You can find out more about Natalie Strand on her website http://www.drnatstrand.com.