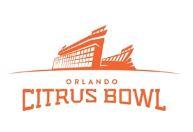 For the price of a renovation, Orlando has received what amounts to a brand new stadium
Orlando, Fla. (PRWEB) November 19, 2014
An official ribbon cutting was held today marking a new beginning for the historic Orlando Citrus Bowl, three days before the reconstructed stadium's first football bowl game, the Florida Blue Florida Classic. Orlando Mayor Buddy Dyer, Orange County Mayor Teresa Jacobs, City of Orlando commissioners, representatives from HNTB, Florida Citrus Sports and other Central Florida leaders participated in the event.
In less than 10 months, the stadium has undergone a $165 million, 85 percent reconstruction, featuring a new design by HNTB Corporation that includes three new state-of-the-art video boards, new lower and mid-level seating, a renovated upper level, and a modern new team facilities building.
"For the price of a renovation, Orlando has received what amounts to a brand new stadium," said Rick Strawn, HNTB principal-in-charge for the project. "The firm is proud to have served the City of Orlando by designing a structure that can be promoted as a premiere facility on par with other great tourism destinations in the region."
The Citrus Bowl now contains 45 suites, 355 high-definition displays and more than 65,000 seats. Additionally, new high-efficiency plumbing fixtures were installed that are projected to save more than 530,000 gallons of water each year. HNTB's design added a host of modern amenities, including club and loge seating, stadium clubs, "everyman's" club decks, continuous concourses, chair-back seating throughout the lower and mid-level seating bowls, and expanded restroom and concession facilities.
The stadium's reconstruction is part of Mayor Dyer's "Triple Crown for Downtown," a $1.1 billion plan to redesign the Orlando Centroplex with a $480 million arena for the Orlando Magic and a new $375 million performing arts center, in addition to the Citrus Bowl reconstruction.
"HNTB is thrilled that the stadium is ready to be enjoyed by the community and its visitors," said Strawn. "It's a terrific return on the investment, and we were able to do it within a very tight timeframe."
For more than 40 years, HNTB has been a national leader in the design of sports and entertainment facilities. Collegiate clients include the University of Kansas, Notre Dame and the University of Kentucky. Signature stadium projects have included the renovation of Memorial Stadium at the University of California-Berkeley; the Michigan Stadium Expansion for the University of Michigan; the renovation of Ross-Ade Stadium for Purdue University; design of Sports Authority Field at Mile High, home of the National Football League Denver Broncos; and the new Levi's Stadium, home to the San Francisco 49ers.
About HNTB
HNTB Corporation is an employee-owned infrastructure firm serving public and private owners and contractors. Celebrating a century of service, HNTB understands the life cycle of infrastructure and addresses clients' most complex technical, financial and operational challenges. Professionals nationwide deliver a full range of infrastructure-related services, including award-winning planning, design, program management and construction management. For more information, visit http://www.hntb.com.
Orlando Citrus Bowl by the Numbers

75,629,700 pounds of concrete and reinforce steel used for new stadium foundation
72,960,000 pounds of pre-cast concrete used to reconstruct the new stadium
7,000,000 pounds of total steel used to build the façade and stair towers
860,472 hours worked on the reconstruction from the start of demolition to the first event held in the new Orlando Citrus Bowl
814,272 square footage of the new Orlando Citrus Bowl, more than 300,000 square feet larger than the old stadium
50,000 square feet of club space along the east and west sidelines
3,687 total number of men and women who worked around the clock to get the stadium event ready in a little more than 300 days
Editor's Note:
For more information about HNTB's work on the Citrus Bowl reconstruction project, see: http://news.hntb.com/press_kits.cfm?presskit_id=4