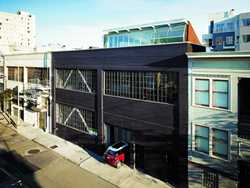 San Francisco, CA (PRWEB) November 18, 2014
Performance-focused, global digital advertising agency, Six Spoke, has closed on 431 Tehama, the award-winning building nicknamed the "Tehama Grasshopper" in San Francisco's SOMA district.
The building, which was transformed from a 1930's San Francisco warehouse to a modern office in 2007 by Fougeron Architecture, has won several distinguished awards including the California Home & Design Award, the IIDA NC Honor Award, the AIA EB Exceptional Residential Honor Award, the AIA SF Excellence in Architecture Honor Award, the AIA Institute Honor Award for Interior Architecture, the Residential Architect Grand Design Award, and the AIA CC Merit Award.
The innovation of the architectural design, integrating old and new elements brings the remodeled warehouse alive and matches the new vibrancy of the area that is characterized by an explosion of tech startups and heavyweights in the area including Twitter, Eventbrite, Yahoo, Pivotal Labs, Kiva, AdRoll, Zoosk, Zendesk and many more.
Six Spoke Capital, Six Spoke's growing alternative investments arm, will manage the real estate holding. "This acquisition not only gives us a larger creative, modern office for our digital agency to grow, but it is also represents a key cornerstone to our burgeoning efforts of incubating startups and providing entrepreneurs a innovative co-working style space to build their companies in a rich and increasingly important tech community in SF," remarked Edward Kim, CEO of Six Spoke.
While an official occupancy date of the new space has not been announced, Six Spoke Sr. Director of Finance, HR, and Operations, Trang Doan, says the agency is looking forward to moving to SOMA. "We couldn't be more excited to move in," she says, "I see this as the tangible foundation to grow the Six Spoke family."
About Six Spoke:
Six Spoke, the Discoverability Marketing agency, is a full-service, digital marketing agency and consultancy with integrated marketing experts specializing in brand development, media planning, search engine optimization (SEO), pay-per-click (PPC), email and marketing automation, social media, ecommerce, web development, video, creative services, data analytics, and strategy consulting. Six Spoke has physical offices in San Francisco Bay Area, Los Angeles, Dallas, and New York City, with capabilities in the top 15 GDP markets through our extended global team.
To learn more about Six Spoke Media, visit http://www.sixspokemedia.com, or contact us at info(At)sixspokemedia(Dot)com, 415.710.6182.