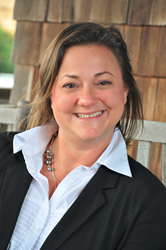 I am looking forward to continuing to work with the many homeowners I have grown to know and care for in the Corolla area.
Corolla, NC (PRWEB) November 18, 2014
Village Realty is pleased to announce that Sara Kristof has joined Candy Basnight to complete the rental management team in its dynamic Corolla office. "I am very excited to be a part of this amazing team," says Kristof, who has many years of experience serving the community of Corolla. In 2000, she began working as a sales assistant with Kitty Hawk Land Company and conducted business out of an office that was based inside of the Currituck Club model home. During this time she earned her real estate license and continued to dedicate her energies to assisting homebuyers and the development of Corolla. In 2007, Kristof helped establish a new property management company, called Paramount Destinations, where she remained as the broker-in-charge and property manager until 2014. As she begins her new position with Village Realty, Kristof reflects: "I have enjoyed being a part of the evolution of the Currituck Club resort community and am looking forward to continuing to work with the many homeowners I have grown to know and care for in the Corolla area."
Kristof, who has been a full-time Outer Banks resident for almost 15 years, has long held the area close to her heart. Born and raised in Richmond, VA, she spent her teenage and collegiate summers delighting in the Outer Banks weather and beaches with her family at their Corolla Light vacation cottage. After four years of college at the University of Virginia in Charlottesville, followed by two years of travel, she found that she was "always drawn back to the beach." She now happily resides on the Outer Banks close to her brother, the owner of Corolla's Metropolis Martini and Tapas restaurant, and her mother who, along with her husband, volunteers with the Corolla fire department. "So, my family and my heart are here on the Outer Banks," she declares sentimentally.
Village Realty President Bob Oakes states, "I am pleased to welcome Sara Kristof to the Corolla office and Village Realty rental management team. The Corolla Outer Banks is a unique vacation rental market where knowledge about owner and guest expectations, along with experience in delivering those services is a rare strength. I see tremendous potential in the combination of Sara and Candy working with our on-site housekeeping and service staff, and I firmly believe that our clients, property owners and guests will have the best possible vacation rental experience in 2015! Our recent investments in booking software and reservation training, along with the impending installation of a new mobile information application will give our management staff a keener focus on owner and guest relationships, therefore improving on our 65% repeat guest ratio."
Managing more than 600 Outer Banks vacation homes, Village Realty is a full-service real estate company that has been expertly serving Outer Banks vacationers and homeowners for more than 20 years. Expanding to Corolla in 1996, the office now represents 229 homes in the area, many within the Currituck Club community. For more information, visit http://www.VillageRealtyOBX.com or call 855.397.2430.