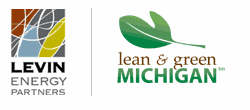 The Saginaw Plaza story demonstrates many of the benefits of PACE. It works for any kind of privately owned business property, even when it is occupied by a government agency.
Lansing, MI (PRWEB) November 17, 2014
The State of Michigan announced today that the new headquarters of the Michigan Public Service Commission would include almost a half-million dollars of clean energy upgrades financed with private capital under Michigan's Property Assessed Clean Energy (PACE) Act.
The MPSC is the first among all fifty state energy agencies to use PACE financing to make its building more energy efficient and to produce some of its own energy from the sun. PACE-financed improvements on the buildings include LED lights throughout the building, variable speed motors to make heating and cooling equipment more efficient, and a 20-kilowatt solar array.
View the Commission's public announcement hot off the press.
The project was made possible when the Eaton County Commission voted 15-0 on September 17 to join Lean & Green Michigan, the statewide PACE program run by Levin Energy Partners, which now encompasses nine counties and three cities representing 44% of Michigan's population.
Michigan's PACE statute requires that the financial savings from the energy improvements exceed the payments on the PACE loan throughout the loan term. Since tenants in office buildings typically pay their own utilities, tenants realize the reduced operating costs.
In this case, the State of Michigan is the sole tenant, occupying the entire office building. The State approached the building's owner with an offer too good to refuse: you agree to upgrade your building, and we will pay for the upgrades through PACE. The owner gets a more efficient, attractive and valuable building. The State looks out for the taxpayers by achieving lower net operating costs. And the MPSC gets a building that demonstrates leadership in the energy field, which it is charged with regulating.
Saginaw Plaza Ltd., the owner of the building at 7109 W. Saginaw Hwy. in Delta Township, readily agreed to enter into the PACE financing arrangement and is now looking into PACE financing at other buildings the ownership group controls throughout the United States.
Andy Levin, President of Lean & Green Michigan, said "the Saginaw Plaza story demonstrates many of the benefits of PACE. It works for any kind of privately owned business property, even when it is occupied by a government agency. And both landlords and tenants benefit, because the landlord can pass the cost of improving his building on to tenants, but tenants still achieve a net reduction in operating costs."
The owner of the new building played a crucial role in making the project a reality. "We are excited to work with the State of Michigan and Lean & Green Michigan to create an extremely efficient building," said Dale Smith, managing partner of Saginaw Plaza Ltd.
In addition to the MPSC, Eaton County, Lean & Green Michigan and Saginaw Plaza, Ltd., key partners in the project include Ameresco, a national energy savings company, which will oversee the clean energy retrofit, and the Michigan Department of Technology, Management and Budget, which administers property leases for the State.
PACE transforms many clean energy projects from pipedream to profitable by allowing property owners to finance them through a property tax special assessment with the local government. Since the county will enforce the special assessment like any other property tax obligation and PACE assessments pass to the new owner when a property is sold, commercial lenders have the security to provide competitive, fixed-interest-rate financing for up to 20 years.
PACE financing makes many projects involving expensive items like efficient windows, boilers, chillers, solar panels and geothermal wells possible on a broad scale for the first time. Property owners pay nothing up front and save more in reduced energy costs than they pay on their PACE assessments, gaining cash they can plow back into their operations.
Lean & Green Michigan is the largest effort in the country to create one statewide PACE market without taxpayer funding. The program is open to all Michigan counties and cities free of charge and is financed by modest administrative frees on each project. To date, the following 12 local governments have joined the program:
Counties:

Eaton
Genesee
Grand Traverse
Huron
Ingham
Macomb
Saginaw
Washtenaw
Wayne
Cities:

Rochester Hills
Royal Oak
Southfield
Over a dozen more local governments are in the process of or discussions about joining.
The Lean & Green Michigan pipeline of proposed PACE projects now exceeds $42,000,000, and new projects will be announced in the coming weeks.
For more information, visit the Lean & Green Michigan website, contact Andy Levin at andy(at)levinenergypartners(dot)com or 248-808-1420, and view the MPSC announcement.
About PACENow:
PACENow is a non-profit foundation funded advocate for Property Assessed Clean Energy (PACE) financing. PACENow's mission is to promote improved energy efficiency in buildings and use of PACE. Our strategy is to be a trusted source for information and resources to a growing coalition of PACE stakeholders that includes local governments, businesses, industry service providers, labor and trade organizations, environmental groups and private individuals nationwide.
Energy efficiency retrofits represent a spectacular investment opportunity. A $279 billion investment in commercial, residential, and institutional segments could save $1 trillion over a decade, according to the Rockefeller Foundation study. Moreover, the ACEEE's estimates show that energy efficiency improvements tend to result in the average return on investment of 22 percent. PACE financing is a robust and flexible tool that can be used to make our nation's buildings more energy efficient.