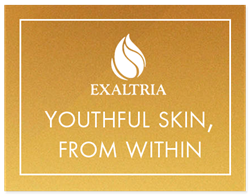 I am happy to say that my skin now looks more hydrated and the tone is more even on my previous problem areas.
Miami, FL (PRWEB) November 20, 2014
Look and feel your absolute best for the Holidays. Exaltria introduces a revolutionary skin care solution that improves the appearance of skin from the inside out. Developed in Europe and loved internationally, Exaltria is now here in the U.S. FlySkin is proud to share this innovative and natural formula with American consumers.
Especially during the holiday season, when we want to put our best face forward, stressors and changes in the weather can negatively effect our skin, making it dry and chapped. It's no secret that the key to great looking skin is hydration. In addition to eating well during and in-between events, drinking plenty of water, and getting enough sleep, Exaltria is an irreplaceable addition to your beauty regimen- protecting, refining, and hydrating for supple skin.
Following a recent 30 Day Challenge, influencers had positive feedback about Exaltria. "I have no doubts that Exaltria works," says Exaltria tester and Home Ever After Blogger, Danelle Ice. "Even though the product information says that you should start to see visible results at the one-month mark, in the first week I saw subtle results. I noticed the deep lines on my forehead were less pronounced than before I started taking Exaltria. The deep grooves seemed to flatten out a little. I love the way it makes my skin feel hydrated all day." Satisfied with her results, Naptime is My Time Blogger Emily Stephens states, "I am noticing that my skin is smoother and appears a bit younger looking. The breakouts have subsided and my skin feels better. I have fewer clogged pores and redness." Countless others who have tried Exaltria boast similar claims of brighter, fuller, youthful looking skin.
Exaltria is made of a well-known bioactive substance, hyaluronic acid, that has undergone a unique high-tech process. Hyaluronic acid alone is known as nature's moisturizer because of its ability to act as a space filler and bind to water. But the scientists that created Exaltria put this HA through a unique biotechnical process that reduces this molecule a thousand times, creating an ultra-low molecular weight hyaluronic acid (LMWHA). Exaltria is the only HA supplement in the U.S. market today with this specific low molecular formula.
HA is naturally produced by the body. Babies are born with a high level of HA, however the amount of HA in skin diminishes with time, especially after the age of 40. It is possible to help restore the skin's HA content and give grown-up skin a younger, fresher, more supple look. HA supplements can help achieve this when provided in a low molecular weight formula. HA molecules in original form are too big to be absorbed by the skin, but when HA is modified to a low molecular weight formula it facilitates absorption and can help improve results.
Exaltria is made with natural ingredients that help hydrate the skin from within, just by taking it once a day. This revolutionary skin care product helps to hydrate the whole skin surface. Even dry eyes might find relief from Exaltria's effects. There are many other Hyaluronic Acid supplements on the market, but the unique size and low weight of this molecule, LMWHA, allows the body to absorb the HA fully and distribute its moisturizing benefits throughout the entire body. Different studies performed in France have shown that a daily ingestion of 120 mg of LMWHA allows a deep hydration of the skin, preventing and reverting aging signs.
Start your Exaltria treatment today:
1 month (30 days) treatment of Exaltria for only $59.99. Only $1.99 per day!
3 months (90 days) treatment of Exaltria for only $143.99.Save 20%!
You can start seeing and feeling the difference just in time for Thanksgiving. For the first time in the U.S., Exaltria can be bought on Amazon:
http://www.amazon.com/Exaltria-850865005005/dp/B00GMRHO5O
For more information please visit: http://www.exaltria.com.