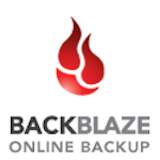 San Mateo, CA (PRWEB) November 17, 2014
Backblaze today announced it ranked 128th on Deloitte's Technology Fast 500™, a ranking of the 500 fastest growing technology, media, telecommunications, life sciences and clean technology companies in North America. Backblaze revenue grew 917% over the 2009-2013 period.
Gleb Budman, CEO and Co-founder of Backblaze, credits their vastly efficient cloud storage system which allows Backblaze to deliver unlimited online data backup for Mac and Windows computers for only $5 a month as the driver behind the company's 917% revenue growth. He said, "It's an honor to be recognized as one of the fastest growing technology companies in the US. With over 100,000,000 GB of personal and work files backed up, and over 7 billion files recovered, I am proud that Backblaze is making a dent in saving people and companies from data loss."
"The companies ranked on the 2014 Deloitte Technology Fast 500 continue to set the bar for their industry higher each year," said Eric Openshaw, vice chairman, Deloitte LLP and U.S. technology, media and telecommunications leader. "There are so many exciting products and smart thought leaders driving this list. We congratulate the Fast 500 companies and look forward to seeing them continue their momentum into 2015."
"For 20 years, the Deloitte Fast 500 rankings have honored the innovation that is part of these companies' DNA," added Jim Atwell, national managing partner of the emerging growth company practice, Deloitte & Touche LLP. "We're glad to be serving these high-growth companies, and helping the technology sector recognize the great strides and transformation these companies are making in their respective areas."
Find out how Backblaze achieved this growth by visiting it's Fast 500 blog post or contacting press(at)backblaze(dot)com.
About Deloitte's 2014 Technology Fast 500™
Technology Fast 500, conducted by Deloitte LLP, provides a ranking of the fastest growing technology, media, telecommunications, life sciences and clean technology companies – both public and private – in North America. Technology Fast 500 award winners are selected based on percentage fiscal year revenue growth from 2009 to 2013.
In order to be eligible for Technology Fast 500 recognition, companies must own proprietary intellectual property or technology that is sold to customers in products that contribute to a majority of the company's operating revenues. Companies must have base-year operating revenues of at least $50,000 USD or CD, and current-year operating revenues of at least $5 million USD or CD. Additionally, companies must be in business for a minimum of five years and be headquartered within North America.
About Backblaze
Founded by a team of serial entrepreneurs with security, scalability and usability backgrounds, Backblaze's mission is to ensure that all computer data is backed up. Backblaze kudos and awards include the 2014 Deloitte Technology Fast 500, 2013 SIIA CODIE Awards Winner, RedHerring 2013 North American Finalist, and being named the Best Online Backup Service of 2012 by OnlineBackupReviews.org. Backblaze automatically, continuously, and safely backs up all data on a PC or Mac for just $5 per month, $50 per year, or $95 for two years. Visit https://www.backblaze.com for more information, or to sign-up for a free trial.