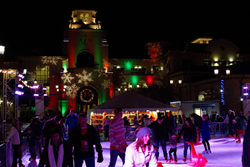 "It will be an especially magical December with Temecula Chilled," Kimberly Adams, Visit Temecula Valley CEO and president emphasized.
Temecula, CA (PRWEB) November 18, 2014
"It will be an especially magical December with Temecula Chilled," Adams emphasized. "There will be the beauty of all the twinkling lights, the sparkle of iconic snowflakes, the grand and glorious illusions of snowfall and snow flurries, tons of real and authentic snow, the Temecula On Ice outdoor skating rink, special and unique Temecula Chilled beverages and desserts, and much more throughout the Temecula Valley. The celebration offers spectacular opportunities for loving families, great friends, and devoted couples to share festive experiences and create unique, new traditions together. The memories they'll share will be cherished long after the days and nights of December have passed."
Planned thus far as part of the Temecula Chilled celebration are the twinkling lights and décor that will glow along Old Town Front Street; in the vineyards and at the wineries in Temecula Valley Wine Country; from the luminous hotel tower to the festive porte-cochere at Pechanga Resort & Casino; and throughout the indoor and outdoor spaces at Promenade Temecula. Also included will be Snowbell Rockin' Nights with musical bells, a light show, and snowfall at the Temecula Civic Center in Old Town; and The Magic Snow Flurry show at Promenade Temecula. Santa's Electric Light Parade, the Temecula On Ice outdoor skating rink, the Holiday Taste of Old Town event, Pennypickle's Winter Wonderland with tons of real snow, and the New Year's Eve Grape Drop in Old Town Temecula. Promenade Temecula and Old Town Temecula will offer visits with Santa Claus; Pechanga will offer fresh-baked gingerbread houses; and quality, award-winning wine tasting in Temecula Valley Wine Country will offer opportunities to purchase favorites for personal and corporate gifts, for sharing while entertaining at home, and for pairing with holiday foods. Stage productions like the musical extravaganza A Christmas Carol and the beautiful Nutcracker ballet at Old Town Temecula Community Theater; and holiday concerts at Pechanga like the 2014 Christmas Rocks Tour with the Brian Setzer Orchestra will be featured. Highlights will also include December signature wine and live music events at the wineries, and gala New Year's Eve celebrations in Wine Country and at Pechanga.
"Temecula Chilled encourages, friends, couples, and their visiting guests, too – to take time and make time to get away, stay, and relax and be joyful together in Temecula Valley Southern California Wine Country," Adams said. "There will be so many festive sights, sounds, events, and activities to experience together. It means many opportunities to create wonderful new traditions together and to share lasting memories. Less-busy midweek overnight stays can be especially memorable for potential conversations with talented and gracious Temecula Valley winemakers and winemaking family members, and creative and passionate chefs, artisans, and merchants. Meanwhile, resorts', hotels', and motels' special, better-than-weekend, Sunday-through-Thursday, nightly room rates can mean savings that become additional resources for purchases of Temecula Valley goodness and greatness, and for enjoying more Temecula Chilled events, activities, and experiences." Visit TemeculaChilled.com for more information on the holiday events happening throughout Temecula Valley.
*Information is believed accurate but may be subject to change. Most events and many activities will require advance reservations.
ABOUT THE TEMECULA VALLEY AND VISIT TEMECULA VALLEY
With natural gifts of climate and geography, bolstered by Pu'eska Mountain, the Rainbow Gap, and Santa Margarita Gap, Temecula Valley is widely recognized for its scenic vineyards, award-winning wines, and gracious and friendly wineries as Temecula Valley Southern California Wine Country. The popular boutique destination includes the Temecula Valley A.V.A. (American Viticulture Area) as well as Downtown, Old Town Temecula, Pechanga Resort & Casino, and the Temecula Wine Country Golf Trail, and is home to three-time award-winning California Golden State Winery of the Year, South Coast Winery.
Visit Temecula Valley (formerly the Temecula Valley Convention & Visitors Bureau), the region's official tourism marketing organization and resource for visitors is online including a complete daily Events Calendar at VisitTemeculaValley.com; "Temecula Valley Southern California Wine Country" on Facebook; and @Visit_Temecula on Twitter. Visit Temecula Valley also welcomes ad agencies, location scouts, writers, and directors online at FilmTemecula.com. The Temecula Valley Visitors Center is located in Downtown Old Town Temecula (Third Street and Mercedes) adjacent the Old Town Temecula Parking Garage. For visitor information and assistance, please call 888/363-2852 or 951/491-6085.
###