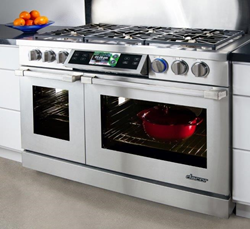 We applaud Dacor on its commitment to putting safer products into the marketplace, -- UL Engineering Manager Paul K. Jackson.
Los Angeles, CA (PRWEB) November 18, 2014
Dacor®, the leading manufacturer of ultra-premium kitchen appliances, is a front-runner in cooking appliance safety testing. Today, the company announces that its Discovery iQ™ Dual-Fuel Range is the first ultra-premium, smart range to pass the UL UL-60730, Fourth Edition certification. This new test certifies that the Dacor high-tech range passes stringent safety requirements to operate from any remote location, inside or outside the home.
The evolution of home appliances into smart appliances introduces potential product safety concerns. UL safety standards historically address pre-determined, built-in settings adjustable by the home chef. However, standards for smart enabled appliances need to additionally address:

Network connection that introduces action by external devices or other parties.
Remote operation by the consumer that no longer requires proximity to the appliance.
These UL-60730 requirements are focused on the functional safety of appliances that are network connected or intended for remote operation.
Dacor has been working with UL since its inception in 1965 to test its products and certify safety. The UL-60730 certification will be required by appliance manufacturers in 2018, but Dacor has taken the step to implement this standard now, to take advantage of the most current safety standards and empower its customers with the most advanced cooking technology available for the home.
"We've been manufacturing ultra-premium kitchen appliances for nearly 50 years, and unlike every major competitor, have never had a safety recall," states Dacor President Steve Joseph. "We credit our safety record to our working collaboration with UL. As companies like Dacor launch smart, high-tech appliances it's important that safety is a top priority in the engineering process."
"We applaud Dacor on its commitment to putting safer products into the marketplace," said UL Engineering Manager Paul K. Jackson. "UL fully tested the remote capabilities of the Discovery iQ Dual-Fuel Range against requirements and have authorized Dacor to apply the UL certification mark."
ABOUT DACOR
Founded in 1965, Dacor is a manufacturer of ultra-premium kitchen appliances. Designed and built in California, Dacor's cooking appliances integrate function and technology to create high-performing, intuitive products that reflect the lifestyle and needs of the passionate cook. For nearly 50 years, Dacor has been responsible for many of the innovations that have improved the way people cook in the modern kitchen. Dacor is family-owned and embraces the legacy, heritage and expertise of a third generation to lead the company into a new age of cooking innovation. Dacor's innovative appliances have been recognized with many prestigious awards including a Digital Trends Best of Consumer Electronics Show (CES) Home award for its Discovery iQ™ Dual-Fuel Range, Kitchen & Bath Industry Show (KBIS) Best of Show and Best of Kitchen Gold for its Discovery iQ™ 30" Wall Oven and Better Homes & Gardens Kitchen + Bath Ideas 30 Most Innovative Products award for its Discovery WineStation®. For more information about Dacor and its products, visit dacor.com.
###