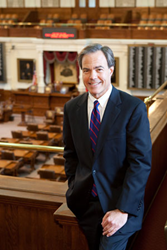 San Antonio, TX (PRWEB) November 19, 2014
The San Antonio Chamber of Commerce will host Texas Speaker of the House, Joe Straus at a luncheon on Tuesday, November 18th at the Marriott Rivercenter hotel in downtown San Antonio beginning at Noon. In addition to serving as Speaker of the House for the past five years, Straus represents San Antonio's 121st District which includes Bexar County communities such as Alamo Heights, Olmos Park, Terrell Hills and northeast San Antonio.
He has established a legacy of strong leadership in the Texas House of Representative by successfully balancing budgets, boosting policy to support economic growth, sided with efforts for water conservation and energy efficiency and spearheaded innovative educational initiatives.
In the upcoming Legislative Session he will prioritize economic prosperity, water issues, transportation needs and education funding.
The event is open to the public, but seats are limited. Media are invited to cover the story - RSVP is required by contacting Becky Bridges Dinnin at bdinnin(at)sachamber(dot)org