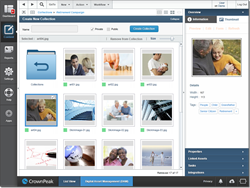 Los Angeles, CA (PRWEB) November 18, 2014
CrownPeak Technology, provider of the enterprise's only open cloud platform for Web Experience Management, has released a new Digital Asset Management (DAM) offering, available now to its enterprise customers and digital agency partners. The company's unique DAM service makes global management of digital media assets across all of an organization's web properties quick and easy.
Digital marketers choose CrownPeak's multi-tenant cloud content management platform to create rich, personalized web experiences for customers. As part of any brand's global website management effort, CrownPeak DAM eliminates many of the extra steps normally required to manage, organize, edit, deploy and regulate digital media files. The service provides the following benefits to enterprise marketing and agency client website teams:
● Asset Curation. Organize and categorize digital assets at will, then easily police where they are deployed, regardless of the source content's location.
● Standardized Editing. Normalize image editing functions across all global web properties, supporting collaboration and taming inefficient DAM workflows.
● Increased Control. Unify brand identity, image quality, asset versioning and compliance across the enterprise in one comprehensive cloud tool.
"Digital marketing teams work feverishly to feed each prospect's ravenous appetite for digital content," explains Paul Juedes, senior director of enterprise digital marketing at CoreLogic. "A cloud content management platform with an integrated DAM is now a necessity. Solutions like CrownPeak DAM can streamline and simplify the way organizations manage their digital assets in a central, secure way. Moreover, a good DAM implementation is a strategic competitive advantage. It allows organizations to meet and exceed every customer's expectations for a great content-driven experience with brand consistency."
According to Gartner's recommendations when considering DAM: "Invest in DAM solutions if the focus is on a cross-enterprise digital asset repository with robust search and version control capabilities. Integrate DAM and MRM with WCM to manage the brand and understand Web content marketing effectiveness." (Gartner: When to Consider Digital Asset Management, Marketing Resource Management and Web Content Management, 8 May 2014)
A Single Unified Cloud View of All Digital Assets
CrownPeak's DAM offering is able to openly access and manipulate digital media assets stored in a variety of third party marketing tools such as Box, Dropbox, Google Drive, Sharepoint and Veeva. Website teams tasked with creating better online customer experiences on a global basis can more easily enforce a unified, consistent brand look and feel – no matter where their digital assets are stored, even outside the web content management system.
Carl Sutter, chief product officer for CrownPeak, explains, "The prevalence of unintegrated and niche DAM products in the market left unaddressed a number of key challenges felt by digital marketers. CrownPeak DAM helps eliminate errors in what has traditionally been a very inefficient team workflow for asset management. Most DAM offerings don't sync directly with the CMS. With our cloud content management platform, the more backend digital asset repositories that integrate via our open API or pre-built connectors, the more optimized a brand's entire DAM effort can become."
CrownPeak is positioned as a "Visionary" in 2014 Magic Quadrant for Web Content Management (WCM) by Gartner, Inc. As the only multi-tenant cloud CMS for the enterprise, CrownPeak empowers digital marketers with greater speed and control than hosted or on premise web content management systems. Privately-held, the company is on a rapid growth path with 100% revenue growth year-over-year as large global enterprises and leading agencies worldwide join its customer base.
Features of CrownPeak Digital Asset Management
Designed to empower web content authors and editors, CrownPeak DAM comprises the following features and functions:
Access - CrownPeak DAM tracks and organizes digital assets across the enterprise with native platform integration to best-of-breed data and content sources where digital assets may be stored. It manages the seamless flow of image files, audio and video – independent of their location. CrownPeak is also compatible with third-party storage, enterprise content management and document management applications.
Organization - CrownPeak DAM allows users to filter and classify digital assets by tagging attributes such as file type and meta-data tags (e.g. "product photos") or by creating named collections (e.g. "Fall campaign"). Assets can be browsed, searched, moved and manipulated across the entire website portfolio from a single interface – eliminating asset redundancy. Collections allow web teams to provision special access in support of cross-team collaboration.
Editing - CrownPeak DAM provides a unified, intuitive set of tools for image editing across all websites, efficiently eliminating unnecessary image rework. The Image Optimizer feature creates pre-packaged, optimized images for mobile, tablet or web with a few clicks. Finalized images can then be quickly and consistently published across all global websites. Any saved changes roll out automatically on production sites that use the image as well as to its original location.
Previewing - CrownPeak DAM powers rich media preview of still image thumbnails and full web pages with adjustable sizing.
Enforcement - CrownPeak DAM empowers brand owners to enforce compliance of digital assets with definitive or optimal quality standards, supported by layered security and rich team workflow built right into the CrownPeak platform. Collect and tag assets by expiration date or copyright, for example. CrownPeak can also integrate its capabilities with third-party digital rights management and governance monitoring tools.
Pricing & Availability
CrownPeak DAM is fully integrated with CrownPeak's cloud content management platform and available immediately with the click of a button. The service is an optional offering that CrownPeak activates for customers and comes packaged as part of the Advanced Platform edition. The company will make pricing information available to interested parties.
About CrownPeak
CrownPeak Technology provides the enterprise's only open cloud platform for Web Experience Management. Since 2001, CrownPeak has pioneered the software-as-a-service delivery model for web content management systems. Digital marketers at large enterprises and leading agencies worldwide rely on CrownPeak to launch websites fast, affordably and without burdening I.T. CrownPeak's WEM platform powers personalized digital experiences across thousands of global websites, optimized by native integration with more than 60 best-of-breed marketing data and content sources. Customers include AFLAC, AIG, Diageo, Eli Lilly, Kaiser Permanente, Men's Wearhouse, MetLife, Prudential and Sony Music. For more information, visit http://www.CrownPeak.com.
Gartner does not endorse any vendor, product or service depicted in its research publications, and does not advise technology users to select only those vendors with the highest ratings or other designation. Gartner research publications consist of the opinions of Gartner's research organization and should not be construed as statements of fact. Gartner disclaims all warranties, expressed or implied, with respect to this research, including any warranties of merchantability or fitness for a particular purpose.