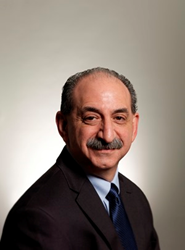 Bob adds an extraordinary depth of knowledge and experience to HNTB's already extensive transit practice
NEW YORK (PRWEB) November 18, 2014
Robert Pinghero, PE, has joined HNTB Corporation as a senior rail program manager and associate vice president in the firm's New York City office. Pinghero comes to HNTB with more than 30 years of experience as a structural engineer in rail transit systems both as a project manager and project executive.
At HNTB, Pinghero will apply his expertise to the firm's ongoing rail transit programs for New Jersey Transit, the New York City Transit Authority and Metro-North Railroad, among others.
Pinghero brings significant transit station and facility rehabilitation experience in the areas of maximizing passenger accessibility, transit system security and disaster recovery. He has worked extensively throughout the metropolitan New York City region as well across the United States on major rail transit projects.
"Bob adds an extraordinary depth of knowledge and experience to HNTB's already extensive transit practice," said Mike Sweeney, PE, HNTB New York district leader and senior vice president. "His background in the rehabilitation and modification of existing transit stations, along with the design of new facilities, is particularly important today as transit systems seek to maximize the ability of everyone to utilize their services."
A registered professional engineer in New York and New Jersey, Pinghero is a graduate of the University of New Haven with a bachelor's degree in civil engineering.
In the past 12 months, HNTB has added more than 50 professionals to its rapidly expanding transit practice in the Northeast.
Since opening its office in New York City in 1922, HNTB has maintained a continuous presence in Manhattan and has expanded its practice in the state with offices in Albany and on Long Island. HNTB Corporation employs more than 400 professionals in multiple offices across the New York tri-state region, and has more than doubled in size in the past two years.
About HNTB
HNTB Corporation is an employee-owned infrastructure solutions firm serving public and private owners and contractors. Celebrating a century of service, including more than 90 years in New York, HNTB understands the life cycle of infrastructure and addresses clients' most complex technical, financial and operational challenges. HNTB's New York offices currently employ more than 400 full-time professional in nine tri-state locations. Professionals nationwide deliver a full range of infrastructure-related services, including award-winning planning, design, program management and construction management. For more information, visit http://www.hntb.com.