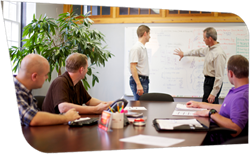 It's a win-win for Sharp Innovations and Digital Bridge to enter into this kind of partnership
Lancaster, PA (PRWEB) November 20, 2014
Digital Bridge Computer Services, a computer systems and network administration company, has entered into a strategic partnership with Sharp Innovations of Lancaster, PA. With the goal of expanding the depth of services available to their clients, Digital Bridge will be transitioning to a space within the new Sharp Innovations offices at Kingdom Crossroads in early 2015. In this unique arrangement, Digital Bridge will remain wholly independent while gaining access to the resources, equipment, and facilities available through Sharp Innovations.
Digital Bridge owner, Sean Williams, will continue to lead the Digital Bridge team in providing all of the services currently available to existing customers. In addition, Sean will now have access to the full array of creative, marketing and technology services offered through Sharp, including hosting, web design, web application development, social media, and search engine optimization. In time, Sean expects to transition all Digital Bridge clients over to the hosting services provided by Sharp Innovations, who will then also be able to update and maintain these same websites for clients of Digital Bridge, if desired.
"It's a win-win for Sharp Innovations and Digital Bridge to enter into this kind of partnership," said Sharp CEO and Managing Partner, Joe Sharp. "We believe the addition of Sean and other new team members within our facility will improve both the depth and breadth of services and strategies that each company is able to provide. We're excited to be able to provide Sean's clients with website hosting and maintenance services to help streamline site updates while also offering site redesigns, marketing, and many other services—all under one roof."
Digital Bridge Computer Services was established in September of 2013, but has a long record of customer service under their former name, BluePoint Technologies. The firm seeks to provide the best class of products and services at affordable prices. Digital Bridge specializes in designing, building, and supporting business networks and systems while also offering a convenient repair facility for both residential and business customers. This allows for affordable repairs to be done with faster than average turnarounds.
Since 1999, CEOs in dozens of industries have relied on Sharp Innovations to help them create results-oriented internet marketing strategies. By combining powerful design, compelling content, thoughtful functionality and proven search engine marketing, Sharp Innovations seeks to improve clients' site rankings, traffic and lead generation. The partnership with Digital Bridge will provide Sharp Innovations clients with even deeper computer hardware, software, and networking resources than were available previously, allowing them to address most any technology, marketing or creative challenge they might face.