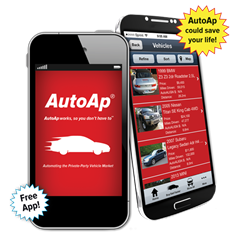 AutoAp can help save your members' lives!
Beaverton and Portland, OR (PRWEB) November 19, 2014
More than 56,000,000 vehicles have been recalled for safety defects this year alone, making it the worst vehicle safety recall year in automotive history. The National Highway Traffic Safety Administration (N.H.T.S.A.) estimates as high as 30% of recalled vehicles never get repaired.
AutoAp, Inc. is enabling member-based affinity organizations to offer to their members the company's free mobile app that lets consumers check vehicles for safety recalls and get automated alerts right to their smartphones when new recalls are announced that affect their vehicles.
This free service is available now for all consumers across the country through their affiliation with a referring member organization.
Designed to connect consumers to the industry's most accurate vehicle safety recall data through their smartphones, AutoAp hopes to significantly increase recall notification efficacy over the current manufacturers' inefficient recall notification process caused by vehicle ownership transfer and address changes.
Members can download the free app now and immediately research safety recalls for vehicles they own, are considering purchasing or are preparing to sell. Consumers can easily load their vehicle information into the app through their unique vehicle identification number (VIN) or by manually entering the year, make, model and style, and the service will automatically alert their smartphones when any new safety recalls are announced by the N.H.T.S.A.
AutoAp can even connect vehicle owners to a local authorized recall service provider directly from the app when a safety recall has been identified for their vehicle*.
AutoAp, Inc., is a mobile-focused automotive software development company created by veteran automotive executives with a vision to save people time and money. Their patents-pending mobile device application automates the car purchase, selling and safety experience and is available through AutoAp's website:, and on the Apple iTunes and Google Play app stores.
*Authorized recall service referral is currently available in Oregon and SW Washington markets only.